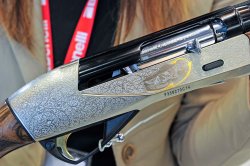 The Raffaello semiautomatic has always been the "top gun" of the Benelli semiautomatic range.
Benelli based the development of the new Deluxe version on the technology used for the semiautomatic Raffaello Power Bore. The engraving on the receiver really makes the Raffaello Deluxe stand out from the crowd. 

It is the result of a photoengraving technique created and applied by the engraver Cesare Giovannelli. The dog engraved on the right side of the receiver and the pheasant taking flight on the left in whorl patterns are enclosed by a gold motif.
The surface was polished to a fine finish of the highest quality before being engraved to guarantee the clarity of the engraving.
Superior grade 3 wood is used for the stock of the Raffaello Deluxe, as is often found on guns of the finest quality. The oil and wax finish is applied to enhance the aesthetic beauty of the wood. As well as the stocks available in various lengths and the drop adjustment kit to adjust the drop and centreline, these guns also have a special interchangeable polyurethane comb, and can be fitted with the Progressive Comfort recoil reduction system.
The Progressive Comfort system also reduces recoil progressively and gradually with less powerful cartridges. The mechanism that fits inside the stock is connected to the butt and reduces the vibrations and kick of the gun to a minimum. Last but not least in the innovative package of technology used in the Raffaello De Luxe, the exclusive Power Bore cryogenic barrel bore drilled to between 18.3 and 18.4 mm, and five fully-tested cryogenic chokes for steel shot. Cryo Power Bore: perfect drilling for an optimal spread.
The Raffaello Deluxe semiautomatic is available in 12-gauge, with a 76 mm Magnum chamber and Cryo Power Bore barrels, with a bright burnished finish and carbon fibre ribbing. The gun is available in various lengths, suitable for every type of hunting. The shortest starts at 61 cm, ideal for game shooting with a pointer, for hunting in the woods the medium 66 cm is hard to beat, and the 70 and 76 cm guns are for more demanding shooting such as when hunting from a hide. The cryogenic chokes are available in */ **/ ***/ ****/ and Cil configurations.
The gun has a high visibility red fibre optic sight and total weight is kept down to less than 3 kg as the receiver is made of special Ergal alloy.