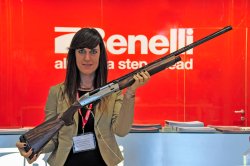 Many hunters stopped by the Benelli stand in Nuremburg to see the latest new products and classic success stories of the past on show at the IWA 2016. Three guns in a rifle rack stood out in terms of technical features, each designed for a specific use. 
The Raffaello Ethos 20-gauge semi-auto was a great success on the American market. This is a gun designed for game shooting, with all the special mechanical features and design we've come to expect from Benelli, such as the Progressive comfort recoil reduction system in the wooden stock for more stable shooting, adapting the power absorption to the power of the cartridge. 
The power bore barrels, which distribute the energy of the shot along the length of the barrel drilled to selected diameters at extremely low speeds, guarantee a well-distributed spread with high penetrating power. Last but not least, the flowing lines and elegant engraving on the nickel-plated, hand-brushed receiver, are similar to that of a fine double-barreled gun.
Along with the Ethos 20-gauge semi-auto, the Argo E Battue rifle, the latest in the Argo series, is for hunting with beaters or for hunters who prefer to move through woodland and need a compact gun that is intuitive and easy-to-handle as well as being very safe and highly visible. With its cryogenic 47 cm barrel, Realtree orange camo colors and quick-release shoulder strap clips to carry the gun in any conditions, the Argo E Battue rifle can meet all your expectations.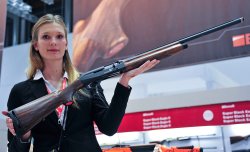 Before leaving the Benelli stand, we took a look at the Colombo semi-auto for hunters of wild fowl. This 12-gauge guarantees excellent performance and is extremely versatile for hunting wood pigeon. 
With a 65 cm barrel and dedicated *** choke, it adapts perfectly to close-range shooting from a hide, while the 70 cm barrel with a special long shot choke guarantees the best performance at ranges of over 60 meters, making it the ideal gun for hunting wood pigeon on migration roads. The operating system is inertia-driven, and the patented Progressive Comfort system in the stock progressively reduces recoil, making the gun more stable and accurate.