To the delight of young hunters and price-conscious shooters, every well-known US rifle manufacturer can nowadays come up with a "low budget" series that promises a lot of for quite little money. These include, for example, the Mossberg Patriot, Remington 783, Ruger American Rifle, Savage Axis/Axis II and the Winchester XPR series, which was first introduced in 2017. XPR bolt-action rifle are based on a steel receiver and have the same M.O.A. trigger as the legendary Winchester 70, in combination with a two-position safety.

The Winchester XPR Thumbhole Threaded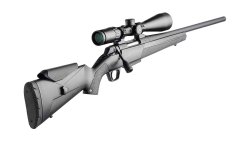 A particularly high-quality version within the affordable series is the young Winchester XPR Thumbhole Threaded model with a grey laminated thumbhole stock in .243 Winchester, .308 Winchester and .30-06 Springfield with a removable 3-round box magazine as well as a 22"/560 mm long, matte blued barrel with M14x1 muzzle thread. The XPR, which is also suitable for sporting use, is priced at just € 888, with scope mount bases, gun lock and owner's manual included. Also new is the XPR Varmint Adjustable Threaded for varmint hunting featuring a composite stock with height-adjustable comb as well as a 22"/560 mm medium-heavy barrel with M14X1 muzzle thread for suppressor mounting. The rifle is available in .223 Remington (5+1 capacity), .243 Winchester, .308 Winchester, .30-06 Springfield and .300 Winchester Magnum (3+1 capacity). Price: € 796.

Also new, the 7 lb/3.2 kg Winchester XPR Composite Threaded features a composite stock and a 24"/610 mm long barrel in .270 Winchester Short Magnum, .338 Winchester Magnum and .300 Winchester Magnum as well as with 22"/560 mm barrel length in .223 Remington, 6.5 Creedmoor, .243 Winchester, .308 Winchester, .270 Winchester and .30-06 Springfield. In .223 Remington magazine capacity is 5+1, in all other calibers 3+1. The muzzle thread is part of the current standard anyway. This rugged working tool for the hunting ground costs only € 611. The new Winchester XPR Long Range Threaded model  in .243 Win, .308 Win and 6.5 CM with tactical Grayboe synthetic stock and 22"/560 mm match barrel with M14x1 thread as well as a magazine capacity of 3+1 weighs about 8.37 lb/3.8 kg.
Also new: XPR Stealth model
An additional variant of the XPR series is the Stealth model. It is characterized by a particularly attractive price/performance ratio and thus also serves – as mentioned – the  ever-growing market of (hunting) entry-level repeaters. The rifle differs from the other models in the line in that it has an oversized bolt handle, which is intended to make it easier to use the rifle on winter hunts while wearing gloves. In addition, Winchester has not painted the synthetic stock, but colored it completely. This improves durability. As usual in this series, the muzzle of the free-floating barrel has an M14x1 thread. It is 21"/530 mm long for standard calibers and 24"/610 mm for magnum calibers. For optics mounting, the rifle comes with a Picatinny rail.


More information on the XPR Stealth and new Winchester products in the video interview:
The Wildcat .22 LR autoloader rifle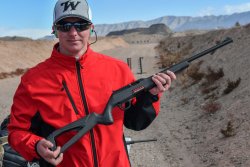 Franco Palamaro, © F.PALAMARO
In 2019, Winchester presented the modular rimfire rifle called "Wildcat", which is only now tentatively making its way to Europe due to the booming US market. We were already able to shoot the Wildcat – which can't quite hide its kinship with the successful Ruger 10/22 rifle – in the desert and we were simply thrilled. The sleek rifle with a polymer stock combines a blowback action with an 18"/457 mm long barrel made of chrome molybdenum steel with a button-rifled internal profile and a twist rate of 1-16"/406 mm. Recently, a "threaded" version has also been made available.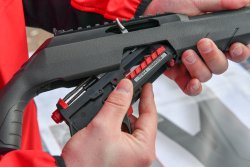 Franco Palamaro, © F.PALAMARO
The special feature of the compact, lightweight rifle is that the lower receiver including the trigger assembly can be easily removed from the upper receiver. This considerably simplifies, for example, gun cleaning because you can insert the cleaning rod through the rear access port to brush out the bore and chamber from the breech end. Controls, such as the magazine release, are designed for ambidextrous operation, as well as being easy to handle thanks to their practical design and positioning. The rotary magazine is reminiscent of the Ruger 10/22 one, so it is not surprising that Ruger 10/22 aftermarket magazines with different capacity by third-party manufacturers can be also used. The .22 autoloader rifle is shipped with a typical 10-round flush magazine. The Winchester Wildcat rifle uses a striker-fired design, which should ensure a better and lighter trigger pull  compared to a conventional hammer-fired design. In any case, the test weapon shot by us was quite satisfactory. The upper receiver sports an integral Picatinny rail on the top, so nothing stands in the way of easy, quick installation of a red dot sight or scope. The rifle is factory-equipped with iron sights consisting of an adjustable "ghost ring"  rear sight and a ramped post front sight.


Among the other features, the tools for sights adjusting are housed in the lower receiver, and sling eyelets are molded into the polymer stock. On the underside of the forearm is a short Picatinny rail section. An included rail cover protects your hand from the rail's edges and corners. Again, at the time of writing, the price had not yet been fixed.