Winchester Repeating Arms will not be launching a completely new series for 2021, but will be giving all series at least two new model variants as "SHOT Show Specials" – in the case of the SX4 autoloading shotgun, there are even a round dozen new versions. Here is a first overview of the newcomers from Winchester Repeating Arms.
Winchester XPR – Special models of the bolt-action rifle for beginners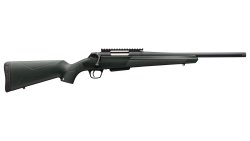 © Winchester Repeating Arms
Winchester's XPR series includes bolt action rifles in the entry-level price range. Six of the new bolt-action rifles feature polymer stocks in various camouflage patterns, some of which are factory-equipped with a muzzle thread as "suppressor ready". The choice of calibers is also endless: models such as the Winchester XPR Strata MB are available in 14 calibers. The manufacturer offers not only standard calibers from the .223 Remington to the .300 Winchester Magnum, but also more recent developments such as the .350 Legend or the brand-new 6.8 Western.

Too much plastic? For fans of laminate wood stocks, there is also the XPR Thumbhole Varmint variant. This bolt-action comes with a laminate thumbhole stock. The new versions also feature a removable magazine, the typical XPR bolt with three lugs and a 60 degree throw, and the M.O.A. trigger system, whose single stage trigger pull weight is factory adjusted by Winchester to around 1.5 kilograms.

Classics in the 2021 catalog: special models of the Winchester 70 and Winchester 1886 lever-action rifles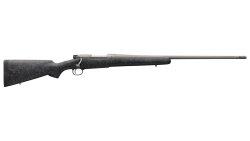 © Winchester Repeating Arms
Winchester's Model 70 offers more comfort and a more elaborate workmanship. The "Rifleman's Rifle" will be available in a number of high-quality Super Grade versions, as well as new models of the somewhat more manageable Model 70 Featherweight, all of which will feature wood stocks. Alternatively, there is the Winchester 70 Extreme Tungsten MB, matte gray Cerakote-coated and fitted with a synthetic stock from Bell & Carlson.
Originally, Winchester gained world fame through lever action rifles, and the name Winchester is still often used synonymously for underlever rifles. And so a new luxury version of the Model 1886 makes the hearts of Western fans beat faster: it features a color case hardened receiver, an octagonal barrel, a beautifully checkered grade III/IV wood stock and the powerful .45-90 Winchester caliber.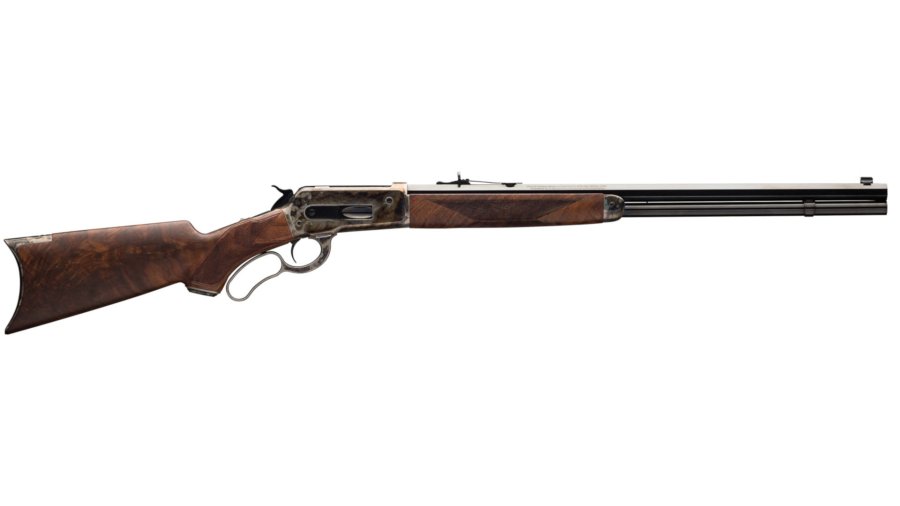 © Winchester Repeating Arms
12 (!) new SX4 series autoloading shotguns and the new SXP Defender Extreme FDE pump-action shotgun from Winchester for 2021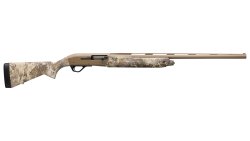 © Winchester Repeating Arms
For the SX4 series of semi-automatic shotguns, the company is primarily focusing on various hunting models in new camouflage patterns – eleven in number. The SX4 Hybrid version with a black stock and gray Cerakote coating on the receiver and barrel completes the dozen new versions of gas-operated shotguns in 12/89 gauge.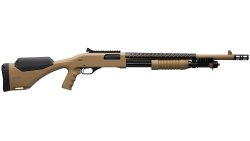 © Winchester Repeating Arms
Similarly, the Winchester SXP hunting-style pump shotguns also focus on camouflage patterns and coated receivers in the Shot Show specials. For those who don't necessarily want to go hunting with their Winchester pump gun, the SXP Defender series will be joined in 2021 by the SXP Defender Extreme FDE. The shotgun with Picatinny rail, ghost ring sight and polymer stock with pistol grip comes factory with a Flat Dark Earth finish.
---
Find all the news from SHOT Show 2021 on all4shooters/all4hunters.
An overview of all 44 SHOT Show Special models from Winchester can be found on the Winchester website.