As a finale for the online-only new products introduction event titled "Primed for '21", Browning and Winchester presented a new rifle big game hunting and sporting caliber in a number of different loadings, both from Winchester Ammunition and Browning Ammunition, plus a choice of new chamberings on existing hunting rifles from both manufacturers: the 6.8 Western. The new caliber is designed for long range hunting and target shooting in short-action rifles, and still being able to use longer, high BC bullets, offering Magnum level performance in a complete, lightweight, extremely accurate and non-punitive recoil gun-ammo package.
Why a new caliber? Aren't there enough long-range calibers already?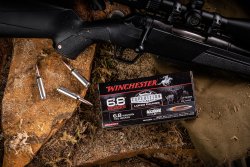 Well, for starters, the interest in Long Range anything – be it hunting, sports shooting and competition – is steadily rising and an increasingly higher number of shooters is pushing demand for specialized gear. Most manufacturers have introduced several new, long range calibers in the past few years. Winchester and Browning partnered to develop a new, all-round caliber that would be a careful balance of all desirable features so to appeal to the largest user base as possible.
As we will see from our detailed view of the new caliber, acceptable recoil, short action compatibility, terminal ballistics performance on large game and best achievable long-range accuracy with a modern high BC bullet were all uncompromisable set points in the development.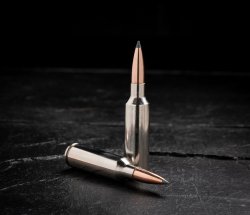 Hints of the new caliber were already in the air. Olin Winchester submitted the 6.8 Western to SAAMI and in November 2020 the caliber was accepted for standardization, with the relevant official SAAMI Cartridge and Chamber Diagram being released to the public a few days later. Taking a look at the downloadable SAAMI diagram, the basic loading is a cartridge with a .277-caliber 175-grain bullet that has a muzzle velocity of 2,840 fps, with a maximum average pressure of 65,000 psi; still from the data, the cartridge is based off the .270 WSM (Winchester Short Magnum), having the same 35° shoulder angle, but being 2.2mm shorter.
This allows the cartridge to still be used in short actions, but with a longer – and heavier – bullet. Such a long bullet also needs faster rifling twist rates, about 1:8". Incidentally, Winchester rifles chambered in 6.8 Western have this twist rate, while Browning rifles have a 1:7.5" twist.
Compared to the .270 WSM, the 6.8 Western can use heavier bullets, but with less recoil than the .300 WSM; and develops more energy than most 6.5mm calibers, including the 6.5 Creedmoor. A definite improvement in accuracy should be substantial, thanks to the new bullet design, with increase in sectional density and superior Ballistic Coefficient.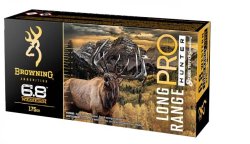 The smaller internal volume of the 6.8 Western case means less propellant can be loaded in the cartridge – but, the longer, higher BC bullet used allows for an increase of energy at longer ranges: Kyle Masinelli, director of New Product Development for Olin Winchester, claims that the new caliber has 10 percent less propellant, but has 12 percent more energy at 500 yards compared to Winchester Ammunition's top performing 270 WSM cartridge, and that less propellant also means less muzzle blast.
Available 6.8 Western ammunition line-up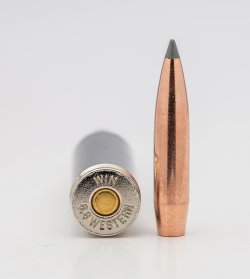 At this time, Winchester is offering the 6.8 Western caliber in the following loadings: Ballistic Silvertip with a 170 gr rapid controlled expansion polymer tip bullet, Match with a Matchking HPBT 170 gr target bullet, and Expedition Long Range with a 165 gr Accubond LR bullet. Browning Ammunition is also offering a Long Range Pro Hunter load, with a Sierra GameKing 175 gr bullet.
Browning and Winchester both have already a selection of hunting and sporting rifles chambered for the 6.8 Western available: most Winchester XPR and Model 70 models offer the chambering, as well as many Browning X-Bolt rifles. During 2021 we should be seeing more models introduced, and also additional rifle manufacturers should be starting to offer the chambering. When the new caliber will be available in Europe, and once available, detailed tests of the new caliber in rifles chambered for it, will be promptly reported by all4shooters.com. Stay tuned!
Winchester Ammunition 6.8 Western available loads:
| | | | | | |
| --- | --- | --- | --- | --- | --- |
| Cartridge | Weight | Bullet type | Velocity | Energy | Box Size |
| S68WLR | 165 grain  | Accubond LR  | 2970 fps  | 3226 ft-lbs  | 20 rnds |
| SBST68W | 170 grain  | Ballistic Silvertip  | 2920 fps  | 3218 ft-lbs  | 20 rnds |
| S68WM | 170 grain  | Match BTHP  | 2910 fps  | 3196 ft-lbs  | 20 rnds |
Browning Ammunition 6.8 Western available loads:
| | | | | | |
| --- | --- | --- | --- | --- | --- |
| Cartridge | Weight  | Bullet type | Velocity | Energy | Box Size |
| B192500682 | 175 grain | Sierra Tipped GameKing | 2835 fps | 3123 ft-lbs  | 20 rnds |