In 2021 Volquartsen Firearms introduced the VF-ORYX rifle as "the ultimate precision semi-auto 22 LR". To the delight of both long range rifle shooters and long range hunters, the U.S. manufacturer now introduces two new versions of the VF-ORYX chambered in .22 WMR and .17 HMR respectively.
"We felt this was the perfect time to add to the VF-ORYX lineup. This chassis set up is perfect for precision shooting," they say at Volquartsen Firearms."Long range rimfire shooting is the perfect way to hone your long range game. Whether you're focused refining your skills with an optic and learning holdovers or managing your breathing to execute the perfect shot, long range rimfire is ideal for competitors and hunters alike."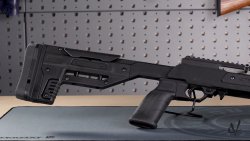 The VF-ORYX rifle stainless steel receiver with integral Picatinny rail is CNC.machined, and the 20.5"/520 mm barrel with 1/2x28 thread, a Volquartsen's Snake Fluted type, is threaded into it, which increases rigidity. The barrel also features a laser-hardened breech face for added durability. To enhance reliability, internal components are CNC-machined and wire-EDM, while the CNC-machined tungsten bolt includes a round titanium firing pin and tuned extractor for improved performance and function.
With a clean 2.25 lb/1,020 g trigger pull, in the TG2000 trigger both pretravel and overtravel are user-adjustable.

The VF-ORYX is set into the ORYX chassis from MDT, a one-piece integrated aluminum chassis and buttstock designed to improve consistency and accuracy. The ORYX chassis features a free floating barrel, on order to keep the barrel free of any contact with the chassis components for greater consistency. With a contoured forend grip, adjustable cheek riser, and overmolded pistol grip for added comfort and stability, the chassis also features a .25" spacer in the buttpad for adjustable LOP. You can purchase side plates  in black, gray, OD green, or FDE color options –  the ORYX chassis is also available as a stand alone product, by the way.
With the new  .22 WMR and .17 HMR chamberings, the Volquartsen VF-ORYX is a perfect precision shooting platform now available in different caliber options. Price is the same for both the .22 WMR and .17 HMR models, at $2,335.50 (MSRP in the U.S.).
Volquartsen VF-ORYX specs and price
| | |
| --- | --- |
| Calibers: | .22 WMR, .17 HMR, .22 LR  |
| Barrel Length:  | 20.5"/520 mm |
| Barrel Type:  | .920" stainless steel bull barrel |
| Barrel Twist:  | 1:16 (22 WMR) 1:9 (17 HMR) 1:16 (22 LR) |
| Action Material:  | Stainless steel |
| Chassis Material:  | Aluminum |
| Magazine Capacity:  | 9 rounds (.22 WMR & .17 HMR) or 10 rounds  (.22 LR) |
| Weight: | 9 lb 11 oz/4,394 g (.22 WMR & .17 HMR); 9 lb 3 oz/4,167 g (.22 LR) |
| Price (MSRPs in the U.S.):  | $2,335.50 (.22 WMR & .17 HMR), $2,101.50  (.22 LR) |