" A distinctly different take on the classic rimfire design" : this is how  Savage Arms introduces its new Minimalist rimfire rifle line. A quick glance to these bolt-action guns explains why they were called that way: the Minimalist rifles are lightweight and ergonomic platforms with absolutely no frills. But when it comes to features and ruggedness, they prove their worth.
Offered in .22 LR, .22 WMR, and .17 HMR, the Minimalist rifles all combine a laminate stock for lightweight strength, a 18" / 147 mm button rifled barrel with ½-28 threaded muzzle and cap, a carbon steel action and a 2.5-6 lb user-adjustable AccuTrigger. 


Six models are available. The Mark II model is chambered in .22 LR only and is offered in two laminate color combinations – brown and green. The 93 and 93R17 models, chambered in .22 WMR and .17 HMR respectively, are also available with brown or green laminate stock color combinations, that are quite eye-catching indeed. All Minimalist rifles have a 10-round detachable magazine. Barrels are matte black finished and feature a sporter contour.
Savage Minimalist,  lightweight ergonomics and reliable performance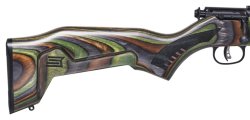 Savage stresses that these bolt-action rifles are designed to make the most of cost-effective rimfire rounds. Minimalist's 2-piece Weaver-style bases are pre-installed. "Minimalist combines the perfect balance of lightweight ergonomics and reliable performance," said Beth Shimanski, Director of Marketing for Savage. "At just 5.68 pounds, they're perfect for backyard plinking or hunting on the move. You can carry one all day and hardly feel it."
In the US, all Minimalist models will have an MSRP of 359 USD, irrespective of caliber. In Europe. availability and prices will be different in each country. Customers should please check https://www.savagearms.com/international or contact info@outdoor-mi.com for the referring distributor in their country.