What has happened? Pictures are currently circulating in the social media showing a burst Blaser ISD silencer and a destroyed front end on a Blaser R8. According to the company, nobody has been injured so far. However, since Blaser "will not make compromise on safety" of its products and customers, they have decided to make a voluntary recall as a precautionary measure, the company said.
The relatively new integral silencers of the ISD type have only been fitted by Blaser as standard in all Blaser R8 model variants with the addition of the "Silence" name since 2018. This also applies to the identical silencer model of the Sauer S404 Silence.

At the end of July 2020 Blaser contacted gunsmiths and end-customers with a voluntary product recall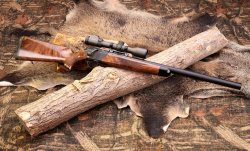 The affected integral silencers should now be replaced as quickly as possible. As the company writes in an official communication, condensation apparently forms inside the silencer when the gun is used. The company does not want to take any safety risks, according to the manufacturer.
If, contrary to the instructions in the operating manual, it can't be ensured that the condensate can evaporate before the silencer is stored, it can't be ruled out under certain circumstances that condensation water will remain in the expansion space between the inner and outer tube, where it will attack the outer tube with deposited powder residues. In certain cases, this can lead to corrosion and even pitting corrosion, and a shot could damage the silencer, says Blaser.
Owners are therefore requested to return their ISD silencers to Blaser and Sauer immediately via their specialist dealer. The guns do not have to be sent in for this and can be used without the silencer while waiting for the replacement part. However, it is essential to ensure that the guns are zeroed in again. As there are time limits due to the necessary test procedure and the procurement times for the new components, the company asks for patience right from the beginning of the exchange campaign. According to the manufacturer, the replacement of ISD silencers is free of charge for the customers.
In the notification, Blaser expressly points out that the basic Blaser R8 rifle and all other Blaser hunting rifles are absolutely safe and are not affected by this recall. The voluntary recall refers only to the ISD silencer itself.

Here is Blaser's official statement on the 2020 recall of the ISD type integral silencer.