For the first time in its history, Springfield Armory introduces a bolt action rifle – more precisely, a full family of bolt action hunting rifles, the Model 2020 Waypoint. Gun enthusiasts know Springfield Armory for its competition and defense pistols, such as the recently introduced Ronin Operator 4.25" and XD-M Elite 3.8" models. Now they went a step further – and they did it big. The new Model 2020 Waypoint rifle family in fact presents itself with a long list of very desirable features, including a choice of two carbon fiber stock configurations, two camo finishes, and carbon fiber or stainless steel barrels.  Always with a .75 MOA accuracy guarantee. 
Model 2020 Waypoint, a modern rifle family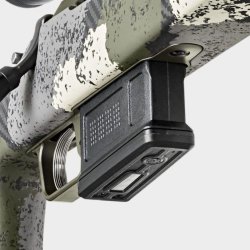 Designed with advanced production techniques, the action is based on dual locking lugs and a fluted, nitrided coated bolt with dual cocking cams for ease of operation and toolless disassembly. Strength and repeatability are provided by an integral machined recoil lug. According to the manufacturer, the electrical discharge machining (EDM) of the bolt lug raceways ensures precision dimensions and smooth cycling, while the enlarged ejection port, sliding extractor and hybrid dual-plane feed ramp deliver reliable and repeatable performance. Springfield Armory also stresses other technical details such as the lock time – the time it takes from the break of the trigger until the firing pin strikes the primer. The faster lock time is, the less you deviate from your point of aim when firing. Well, the Model 2020 delivers primer strike in just 1.9 milliseconds, up to 45 percent faster than the competition, according to Springfield Armory.
Springfield Armory worked with AG Composites to develop the Model 2020 Waypoint carbon fiber stock. Each stock is hand-layed, made from 100% carbon fiber and pillar bedded. Thanks to this, the Waypoint weighs just 6 lbs. 9 oz. Optionally, a 3-axis adjustable cheek comb is available too. To allow the rifle to be slung in a variety of configurations, there are Five QD mounts. For maximum recoil reduction and shooting comfort, the stock is equipped with a super soft rubber blend 1" Pachmayr Decelerator pad. As for the finish, you can choose between Evergreen or Ridgeline camo, both hand-painted.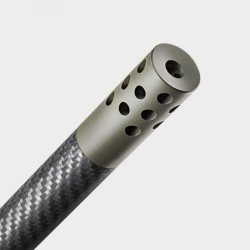 The Model 2020 Waypoint barrels are 100% free-floated and available in both a carbon fiber or traditional fluted stainless steel version. The BSF barrel is jacketed in a roll-wrapped carbon fiber sleeve and loaded under tension – 95 percent of the carbon fiber sleeve doesn't contact the barrel, providing cooling air gaps and promoting cold bore to warm bore repeatability. The fluting under the sleeve further reduces weight and increases surface cooling area for consistent accuracy. At the muzzle, a removable radial brake effectively reduces recoil.
The TriggerTech trigger features the company's Frictionless Release Technology and a low-profile, non-snag safety. It's adjustable from 2.5 to 5 pounds with a patented, free-floating roller. The Model 2020 rifles are fed by AICS pattern magazines that should provide full reliability due to the rounds feeding straight into the chamber.
Video: Model 2020 Waypoint rifles
This video has been hidden because of an external service (YouTube) that could potentially collect personal data.Allow video services for the duration of the visitAllow video servicesStop allowing video services
Premium grade rifles from Springfield Armory
The new Model 2020 Waypoint rifles are available in four chamberings, namely 6mm Creedmoor, 6.5 Creedmoor, 6.5 PRC and .308 Winchester. Depending on caliber and version, prices range from  $1699 to $2399. If you consider that "The Model 2020 Waypoint is the result of years of engineering, testing and evaluation, combined with premium grade components found on rifles costing thousands of dollars more," they are not incredibly cheap, but neither outrageously expensive. We look forward to testing them here on all4shooters.com ASAP. Stay tuned!