The new show room and the Fausti outlet are greatly appreciated by hunters, allowing the latter to directly find rifles ready for delivery at the company at affordable prices for some time now. Finding your rifle a few weeks before the next hunting season is undoubtedly an emotion that amplifies the anticipation. Among the racks displaying Fausti models, there are not only smooth-barreled shotguns, but also side-by-side and over/under double rifles such as the Class Express that Barbara Fausti presents to us, a rifled gun designed to satisfy wild boar and ungulate hunters who appreciate the elegance and safety of break action rifles, ideal for shooting in the woods. 
This video has been hidden because of an external service (YouTube) that could potentially collect personal data.Allow video services for the duration of the visitAllow video servicesStop allowing video services
Fausti Class Express: details and main features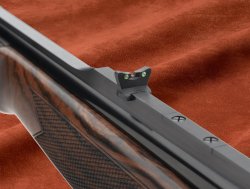 A mechanically sound and aesthetically pleasing gun. The steel frame is machined directly from solid stock, with a low profile and reinforced sides for maximum safety. The deep laser engravings are inspired by floral- and Renaissance-styled themes. The action features a double under-bite locking system with two lugs and a locking bolt. The 23.6"/60 cm over/under barrels are made from special nickel-chrome steel with a nice clean-cut rifling and checked by Fausti technicians with pattern and zeroing tests at 50 meters to offer the maximum guarantee of accuracy to the hunter. Trigger is single non-selective with Anson & Deeley system and automatic shell ejection. For greater stability and weight balance, both the upper and side rib are full. A not insignificant detail for many hunters is the possibility to replace the two rifled barrels with 20-gauge smooth barrels. 
The combination of traditional elegance and modern technology is evident in the fact that the gun is optics- and red dot ready thanks to the supplied rail. The Fausti Class Express is however equipped with adjustable iron rear sight and fiber-optic front sight. The wood used for the Bavarian stock and the Schnabel fore-end is select European oil-finished walnut, with fine pitch checkering. The overall weight of the double rifle, which is just over 3 kg, makes the Express a handy gun for instinctive shooting and hunting. The Fausti Class Express is normally available on demand in twelve calibers, 8×57 JRS, 9.3x74R, .30R Blaser, .30-06 Springfield, .444 Marlin, .45-70 US Government, .270 Winchester, .308 Winchester, 6.5×55, .243 Winchester, 7x57R, 6.5x57R. On the Fausti website and at the company you can currently find some rifles available.