CZ introduces in its 2018 catalogue an interesting product based on the newest 557 centerfire platform, the 557 Left-Hand chambered in 30-06. 
Even today, it's not terribly easy to find hunting rifles specifically designed for "wrong-handed" shooters, with the bolt handle on the reverse side and the entire action working on the opposite side of what right-handed shooters are used to. Even less easy is to find them at the right price.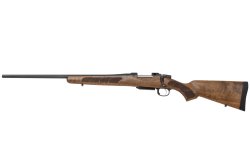 With a reasonable price tag 865 USD, the CZ 557 Left-Hand rifle has everything hunters need, with a CNCed action and a cold hammer-forged, factory lapped 24-in (609 mm) barrel, enough to make the most of the powerful and much-loved 30-06 cartridge.
CZ 557 Left-Hand, a new platform
The 557 platform is a departure from the Mauser Style bolt found on CZ 550 models, featuring a plunger-style ejector and a short extractor with a "push-feed" system that ensure a smooth cycling and enhanced action. The square-bridge receiver is machined from steel billet, complete with integral 19mm dovetails for mounting a scope (the rifle has no sights out of the box).
The CZ 557 features a 2-position safety - the bolt can be cycled while the rifle is on "safe" – and a fully adjustable trigger that allows the owner to tune weight, creep and overtravel. The Turkish walnut stock is the same American-pattern stock of CZ's Sporter model, with pistol grip. The CZ 557 Left-Hand is already available on the US market and should arrive soon on European markets too.
CZ 557 Left-Hand: technical data
| | |
| --- | --- |
| Model: | 557 Left-Hand |
| Caliber: | .30-06 |
| Action: | bolt-action rifle |
| Barrel length:  | 24 in / 609 mm |
| Overall length:  | 44 in / 1117 mm |
| Weight:  | 7.9 lbs / 3583 g |
| Trigger: | Fully adjustable |
| Sights: | No sights, integrated 19mm dovetails |
| Magazine capacity: | 4 rounds |
| Price: | 865 USD  |
| Note: | Left-handed version |