Blaser K95 Ultimate Kliplauf – Tradition meets modernity


At the German fair, Blaser had a real eye-catcher up its sleeve: the K95 Ultimate Kliplauf (single shot rifle). This rifle is a symbiosis of traditional rifle technology and high functionality. The new model even sports a synthetic thumbhole stock. The forend, pistol grip and cheek piece are optionally fitted with either elastometer or specially impregnated leather inserts to ensure a secure grip in all weather conditions. According to Blaser, the stock is almost indestructible and comes with an adjustable buttstock, adjustable cheek piece and can be equipped with a recoil damping system on request. The K95 Ultimate is available from a MRSP of 3884 euro (all prices indicated here may vary in your country due to VAT and import duties).

Sauer 's high-tech carbon fiber rifle: S 101 Highland XTC


Sauer showcased a new model of the S 101 that not only makes an ultra-modern impression from the outside, but also from the inside. The S 101 Highland XTC incorporates the latest technology: the rifle is intended to underpin Sauer's leading role in the carbon fiber hunting rifles segment. For this purpose, it was equipped with a hand-laid carbon fiber stock, barrel is fluted bore with muzzle thread, and the bolt is also fluted. See our article to learn more.
New Mauser hunting rifles

No less than two new bolt action-rifles from the Mauser 18 line were shown to the trade fair visitors. Each of the two rifles is designed for special hunting ground conditions: hunting grounds with a high proportion of forest and open areas.
The new Mauser 18 Feldjagd – developed for long shooting ranges

The claim for the Mauser 18 Feldjagd is "Accurate. Ergonomic. Progressive". This bolt-action rifle is designed for hunting on open terrain and for long-range shooting. To achieve this goal, Mauser has given it a savannah-colored stock with a fully adjustable cheek piece. It also features a 20"/ 56 cm solid fluted barrel with 0.74"/ 19 mm diameter. The rifle weighs 6.96 lb / 3160 g and is available for the price of 1605 euro.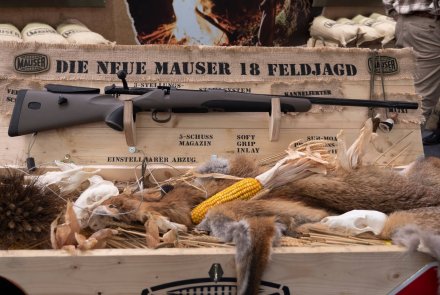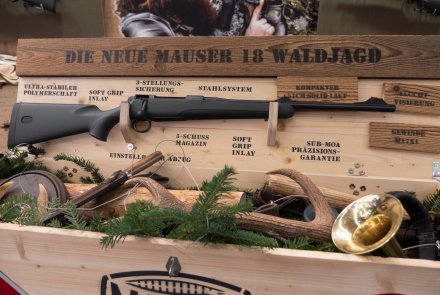 The Mauser 18 Waldjagd – Robust and easy to handle
The matching counterpart to the Feldjagd is the Waldjagd model The claim here is "Short. Compact. Uncompromising". Mauser has developed it to cover the complete range of all types of woods hunting: from stalking, driven hunting up to sitting on narrow posts. To this end it has a short overall length of just 39.7"/ 101 cm and a weight of 6.8 lb / 3100 g. The solid barrel is 20"/ 51 cm long and features a muzzle thread. For close-range shooting, the Mauser 18 Waldjagd can optionally be equipped with a high-contrast escape sight. The rugged polymer stock comes in pine green and with grips inserts on the pistol grip and fore-end. Retail price is 1295 euro if you can do without the open sight. For the latter, there's a surcharge of 120 euro.
Both rifles are available in a wide range of calibers.