Video games and simulators are a useful training tool even for the most specialized activities, like flying planes and – of course – tactical shooting. But they can also be pure fun, of course. Aimpoint, the Swedish Company that is the worldwide leader in red dot sighting technology, now launches a hunting game application.
The web game "The Driven Hunt Experience" by Aimpoint, currently available on Aimpoint's web sites, was released at the end of September. The game is now followed up by the introduction of an app with the same name that will be released on November 10th.
Dyamic and realistic scenarios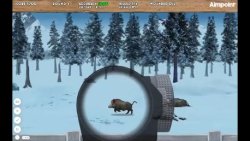 "The Driven Hunt Experience" is a scaled down version of the "The VR Experience", a simulator released earlier this year by Aimpoint designed to fully immerse the user in dynamic and realistic hunting scenarios. "The VR Experience" was developed with the intention of being an entertaining simulation featuring realistic hunting scenarios. All animals were created with attention to details in anatomy and movement patterns. The hit zones replicated those that are used in real hunting situations and the goal was to imitate shooting techniques recommended by shooting instructors. An important objective for Aimpoint was to demonstrate, in an entertaining and powerful way, the concept of shooting with both eyes open, and the advantages of using the red dot of the Aimpoint sight as a valuable aiming/reference point. 
Virtual Reality Wild Boar Hunter by Aimpoint
This video has been hidden because of an external service (YouTube) that could potentially collect personal data.Allow video services for the duration of the visitAllow video servicesStop allowing video services
Created in cooperation with Divine Robot (www.divinerobot.com), a Swedish software development company, "The Driven Hunt Experience" takes a simplified and more entertaining approach. The app version will be available for downloading at Google Play and App Store and includes the same hunting scenarios as the web game: wild boar hunting, deer hunting and duck hunting. Using your mobile to actively move around with a 360° view and experience the grand hunting environments adds an extra dimension to the experience.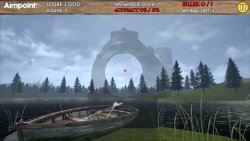 Anna Borg, Director of Marketing Communications at Aimpoint AB, explains: "The goal was to give our customers the opportunity to experience and learn about our products in a new and entertaining way. We are very proud of the result and 'The Driven Hunt Experience' web game is already a success. We are quite sure the app will be even more popular."
"The Driven Hunt Experience" web game can be played online at: