I had the Kahles Helia 2.4-12x56i for just over 4 months, kindly provided to me by the manufacturer. This scope it not new to the market and most of all4hunters.com readers will probably be already familiar with Kahles scopes and binoculars.
I had chosen the Kahles Helia 2.4-12x56i because it was exactly what I was looking for my types of hunting needs – walk-up or stalking in woodland and fields, which means that it could be very long and steady shots or a very quick "snap" way of shooting, and in most cases it could be both.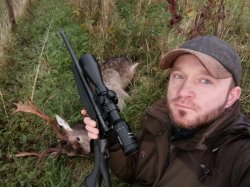 At first I installed this scope on one of my rifles – a Remington 700 SA in .308 Win caliber with laminated original stock. A great combo, but then my other rifle arrived – a Bergara BA13 Take Down,  also in .308Win caliber. And even if I knew that it would look out of place I took the scope off the Remington and mounted it on the Bergara BA13 Take Down
As for ammo, we can talk for ages and it's probably one of the topics which never can be agreed on between hunters, since everyone will have their preferences. Well, for me its a bit easier: I have a very good friend who is a great ammo loader and he is helping me out with my loads for all my rifles. Therefore my home loads are designed for every specific rifle –  or rather, I should say barrel, being based on the specific barrel length and "twist". 
So for my Bergara BA13 Take Down it seams that the best combination is:
Bullet - Hornady .308Win, 150 gr InterLock SP
Powder - Vihtavuori N140 Rifle Powder
Primers - Remington No. 9 ½ Large Rifle Primers
Kahles Helia 2.4-12x56i riflescope: first impression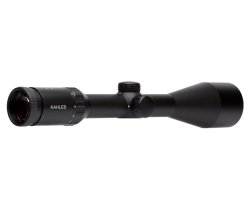 From the moment I opened the box I couldn't stop smiling, the only word coming to my mind being quality. The riflescope looked right and well balanced, I also liked its proportions. Even though it was way too large for my Bergara BA13, the package overall still looked great.
The illuminated dot was very crisp and brightness could be easily adjusted. The adjusting turret moved smoothly and with no play. All turret covers have a good tight fit and at the same time they are easy to undo.
Kahles Helia 2.4-12x56i riflescope technical data
Magnification:

2.4 – 12

Objective lens diameter:

56 mm

Eye relief:

95 mm

Field of view:

16.5 - 3.3 m/100 m

Diopter compensation:

+2 / -3.5 dpt

Twilight factor (DIN 58388):

7.4 - 25.9

Impact correction per click:

0.36 inch (100 yds)
10 mm (100 m)
.1 MIL

Adjustment range (E/W):

1.9 / 1.9 m

Length:

30 mm

Weight:

24 oz / 680 g

Weight (SR-Rail):

24.8 oz / 704 g

Focal plane:

2nd

Illuminated:

Yes

Warranty:

10 years

Kahles Helia 2.4-12x56i riflescope in use
I can personally say that the Kahles Helia 2.4-12x56i lives up to expectations. This scope is designed to give you an all round "work horse", for moving targets (driven hunts) and stalking + "longish" range shooting. The 2.4x low magnification gives you a good view at close range in thick woodlands and 12x allows to take a bit more accurate shot (as above, on longer distances). 
90% light penetration is an impressive claim (and I'll leave it at that). I will not speculate too much on this topic, but will say that the "glass" is very clear and provides sharp pictures.
The crosshairs are very fine and the middle section is nice and open. I admit that the fine crosshairs did get lost on several occasions because of the light levels or too much of growth around the target at the moment of aim, but as soon as you turn the illuminated dot system on it all was irrelevant – the dot sharpness takes over and you don't really need those crosshairs anymore.
The illuminating turret is a touch on the tight side but I'm sure with enough use it would get looser. The automatic light function is a cool addition which sense the position of the rifle and turns itself off when the you move the muzzle up or down, at the same time it will come back on when the rifle is close to a horizontal position again. To clarify this feature: 0-45° (up or down), the dot is lit, move it to 45-75° and it will cut out in 2 min; and if you go beyond 75° it will switch off instantly. 
Kahles Helia 2.4-12x56i riflescope: wrap-up
I think it would be fair to say that Kahles Helia 2.4-12x56i riflescope is a top quality scope for a very good reason and Kahles is doing amazing job to stay in leading position of most scope making brands. That's why I would be delighted to own one of this optics and would appreciate an early X-mas present from any of my friends!

---
For more information on Kahles riflescopes please visit the Kahles website.