Berlin based, Nitehog Europe GmbH is a European optics manufacturer that specializes in the development and production of hunting night vision and thermal imaging devices. 
In very little time, Nitehog has impressed hunters throughout Europe with the quality and performance of its products, becoming a top player thanks to the passion and technical competence of the whole team, which includes avid hunters that contribute their experience to develop products that are really made by hunters, to be used by hunters.

Nitehog TIR-M35 Chameleon X-Core: upgrade of the thermal imaging optics with a higher resolution sensor
Based on the great success of the first-generation Chameleon, Nitehog now introduces the new TIR-M35 Chameleon X-Core multifunctional clip-on thermal imaging optic for hunting and observation. This thermal optic features the proprietary image processing module X-Core built in-house by Nitehog, and a higher resolution, amorphous Silicon (a-Si) LYNRED-built 17 μm pixel pitch Focal Planar Array sensor capable of 640x480 resolution, granting the user improved performance and a high-quality optic.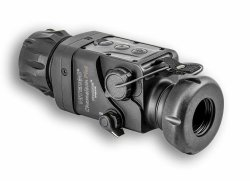 The housing is precision CNC machined from solid magnesium billet stock, IP66 waterproof and filled with nitrogen; the 35 mm focal length objective lens uses high quality, surface treated Germanium elements, with external scratch-resistant, hard Carbon coating. The device has a native magnification of 1x, and can zoom digitally to 4x. the color, AMOLED microdisplay has a resolution of 800x600 pixels. Additional features include the possibility of Nitehog Video Connect connectivity, W-Lan Ready, selectable internal image optimizations, and a Stadiametric distance measurement function.
The Nitehog TIR-M35 Chameleon X-Core is delivered with an eyepiece module for hand-held observation use, and an optional kit for clip-on daytime riflescope mounting is available. In case the Nitehog device is used as an attachment on a firearm, all legal regulations of the weapon law and the respective national hunting law must be respected. 
MSRP in Germany for the Nitehog TIR-M35 Chameleon X-Core multifunctional clip-on thermal imaging optic is set at 4699 euro; price in other EU countries may be different due to local VAT and taxes regulations.  
Nitehog TIR-M35 Chameleon X-Core specs and price
| | |
| --- | --- |
| Model: | Nitehog TIR-M35 Chameleon X-Core |
| Distributor: | RUAG GmbH |
| Type:  | Multifunctional clip-on thermal imaging optic |
| Processing Engine: | X-Core Module |
| Sensor:     | LYNRED a-Si microbolometer / resolution 640x480 / 17 μm pixel pitch |
| Objective: | Germanium, 35 mm focal length |
| Magnification: | 1x optical and 4x digital zoom |
| Display: | AMOLED Color, 800 x 600 resolution |
| Zoom: | 1x optisch; 4x digital |
| Display: | 600x800 px Amoled |
| Waterproofing: | Nitrogen-filled / Waterproof to IP66 |
| Additional Features: | Available as Hand-held or pre-mounted with Clip-On attachment, Stadiametric distance measurement, Freely selectable image optimizations, W-Lan Ready |
| Warranty: | 5 years  |
| MSRP (Germany): | 4699 euro |
---
Find all the news from SHOT Show 2021 on all4shooters/all4hunters.