The advanced and streamlined features of BDX 2.0 in a premium HDX optic: with the addition of the new SIERRA6BDX line to the Ballistic Data Xchange (BDX) family, SIG Sauer Electro-Optics now offers hunters a full range of enhanced super-zoom riflescopes to choose from.
According to the manufacturer, the SIERRA6BDX works particularly well on the new SIG Sauer Cross rifle platform with Sig Sauer hunting Elite Hunter ammunition.
As Andy York, President SIG Sauer Electro-Optics, explains, "These scopes feature HDX high transmission and high definition optical design, 6X magnification ranges, up to 95% light transmission, thinner Digital Focal Plane BDX-R2 hunting reticle with 194 LEDs with wind holds, and up to 30 yards of Bluetooth range to BDX connected rangefinders."
In detail, SIG's BDX technology is based on a Bluetooth wireless communication protocol to connect different optoelectronic devices and a smartphone, so that hunters and shooters can get on target with speed and accuracy. New features of BDX 2.0 include nine pre-loaded, user-selectable Ballistic Drop Compensation (BDC) reticles in all SIERRA Riflescopes, eight ballistic groups pre-loaded in KILO BDX rangefinders and the QuickBOND feature that allows for quick bonding of BDX rangefinders and scopes without the use of a smartphone app. 
SIG Sauer SIERRA6BDX: all features in video
This video has been hidden because of an external service (YouTube) that could potentially collect personal data.Allow video services for the duration of the visitAllow video servicesStop allowing video services
SIERRA6BDX, 3 zoom ranges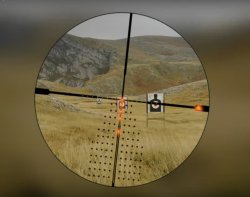 Now, some more details about the new SIERRA6BDX family of riflescopes: they are is available in 3 different zoom ranges, 5-30x56mm, 3-18x44mm, and 2-12x40mm, each featuring the SmartBDX reticle technology with up to 95% light transition. 
They also include KinETHIC Kinetic Energy Transfer Indicator for ethical shots on target, and LevelPlex, an internal digital level that allows users to eliminate cant and take perfectly level shots.
Prices range from 1169.99 USD for the 2-12x40 model up to 1689.99 USD for the 5-30x56, with the intermediate 3-18x44 being priced at 1299.99 USD.
---
For more information on the new SIG Sauer SIERRA6BDX riflescopes please visit the manufacturer's website.