If twenty years ago we had predicted that hunters would be able to count on satellite trackers for their dogs, optics that calculate the bullet trajectory and range the distance to the game, pocket flashlights as powerful as a truck high beam and thermal imaging viewers as big as a bottle of soda, probably someone would have called us visionaries, or at least optimists. In fact, technological evolution in recent years has been nothing short of frenetic, and has made available to shooters and hunters tools that were once the preserve of the military, and had unapproachable size and costs.
Project Helia: two easy-to-use and efficient models

Kahles began development and production of the new Helia thermal imaging devices in 2020, when advances in the technology made it possible to meet the Austrian company's exacting quality standards. Now two different models are available, both designed to offer easy, fast and uncompromising detection in both day and night: the main difference lies in the diameter of the objective lenses and the optical magnification values.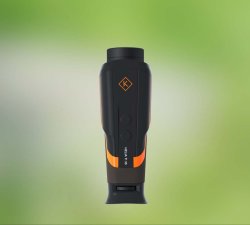 Helia TI 25: for fast detection with a wide field of view. The wide field of view of the TI 25, corresponding to 26 meters at a distance of 100 meters, allows you to quickly detect game or other heat sources. It is an ideal tool for scouting large areas and forming an overview. The optical magnification is 1.7X.
Helia TI 35: reliable identification and high detail resolution. High-quality imaging and high detail resolution make the Kahles TI 35 ideal for reliably identification of game or heat sources with a field of view of 19 meters at 100 meters and 2.3X optical magnification.
The new Helia TI 25 and TI23 thermal imaging devices offer the user state-of-the-art thermal imaging technology and features designed specifically to meet hunter's needs. Above all, they provide an outstanding combination of easy handling, intuitive operation and high image quality. The control buttons are all in the right place and can be easily operated in a highly intuitive manner.

The housing of the two Kahles devices has been designed for easy, ergonomic operation and comfort, featuring a shape that prevents the devices from rolling if you place them on a flat surface. Moreover, the housing is drop- and water-proof, allowing use even in extreme temperatures, from -20°C up to +50°C.
The menu showed in the OLED display is very clear, with just five sub-items, and can be used to individually adjust various image settings such as contrast, brightness and sharpness. Quick settings for hunting such as color modes (White Hot, Black Hot, Red Only) and digital zoom (1x, 2x, 4x) can be selected directly using the two buttons without having to open the menu.

As we said, the two Kahles thermal viewer models have different optical magnifications of 2.3x (TI 35) and 1.7x (TI 25), a high-resolution OLED display for detailed images, and a built-in rechargeable lithium-ion battery.
Helia TI 25 and TI 35: on the hunting ground, reaction time also counts

When you're on the hunting ground, quick reaction and action are essential, which is why the Helia TI devices were designed to be ready to use in just two seconds after being switched up.
The smart display uses a tilt and motion sensor that automatically switch itself on and off. This prevents any distracting light output from the display, which immediately reactivates as soon as the device is moved, without the need to press any buttons. This feature also helps to improve the energy management for the devices and extend battery life to a remarkable 8 hours.
All components used and the accessories supplied are specially optimized for hunting and built to last. A three-year warranty and the usual high service standards of Kahles ensure quick and competent assistance when needed.
Kahles Helia TI 25 and TI 35 specs

| | | |
| --- | --- | --- |
| Model: | TI 35 | TI 25 |
| Objective Lens:  | 35 mm, F1.0 | 25 mm, F1.0 |
| Sensor Resolution (pixels):  | 384×288; 17 μm    | 384×288; 17 μm   |
| Sensor Type:  | Vanadium oxide uncooled   | Vanadium oxide uncooled   |
| Thermal Sensitivity - NETD (mK):  | <35 | <35 |
| Display Resolution (pixels):  | 1024x768 | 1024x768 |
| Display Frame Rate (Hz):  | 50 | 50 |
| Display Type:  | OLED | OLED |
| Field of View (°):  | 10.66×8.00  | 14.88x11.19 |
| Field of View (m/100m):  | 19 | 26 |
| Field of View Apparent (°):  | 25x18.7   | |
| Optical Magnification:  | 2.3x  | 1.7x |
| Digital Zoom:  | 1x, 2x, 4x | 1x, 2x, 4x |
| Battery Type:  | rechargeable lithium-ion  | rechargeable lithium-ion  |
| Battery Life:  | Up to 8 hours   | Up to 8 hours   |
| Operating Temperature (°C):  | -20 / +50 | -20 / +50 |
| Length/Width/Height (mm):  | 198 x 68 x 63 | 198 x 68 x 63 |
| Weight (g):  | 430 | 430 |
| Water Resistant:  | Yes | Yes |
| Focus:  | Manual   | Manual   |
| Boot-Up Time:  | 2 seconds  | 2 seconds  |
| Color Modes:  | White Hot, Black Hot, Red Only   | White Hot, Black Hot, Red Only   |
| Warranty:  | 3 years   | 3 years   |
| Accessories (included):  | Objective lens cover Carrying strap with quick release fastener Neoprene Protective cover USB-C charging cable | Objective lens cover Carrying strap with quick release fastener Neoprene Protective cover USB-C charging cable |
---
Our first impressions in comparison with other suppliers
The strict focus on hunting of the first Kahles thermal devices Helia TI 35 and TI 25 has had an effect on the practical features. With a start-up time of only two seconds and the built-in sensors for movement and tilt, the design with only two buttons and roll-away protection seems more ergonomic than some somewhat bulky tubes. And the omission of photo and video functions saves weight: 430 g for Kahles vs. 695 g for the Steiner H35, and even the Jahnke Thermal 2 weighs 55 g more – that's good. The Kahles Helia TI thermal imagers are stand-alone models that are not intended to be mounted in front of a scope, even though Kahles successfully offers such scopes. This is done differently at the related company Swarovski Optik – but also in a different price range. The new tM 35 thermal imager is a dual-use model in the premium class, costing €4800. It will be available from spring 2022.
Back to Kahles: for 2500 euros, you can get comparable models on the market, sometimes photo and video are integrated, sometimes the display is larger (both, for example, with the Thermal II from Jahnke), sometimes the usability as an IF add-on or observation tube is higher with comparable optical data (for example, with the GPO Spectra Ti 35) – here, however, for a good 400 euros more. Regardless of the fact that we are only comparing paper data here and therefore can only judge the usefulness of the Kahles technology in practice in the test, the prospective buyer is spoilt for choice and has to compare the data sheets. Remember: paper is patient, but fleeting game in the field is less so when your device clatters unintentionally or takes too long to focus. The Kahles TI 35 and TI 25 Helia devices will certainly find their new owners: those who are uncompromisingly looking for a "tool" from a renowned optics manufacturer as a hunting companion that offers exactly what they need in the field.
The new Helia TI 25 and TI 35 models will be available in stores from December 2021 at a retail price of € 2240 (TI 25) and € 2540 (TI 35) – but consider that prices may be different in your country due to local VAT and import duties. To learn more, please visit the Kahles website.