Norma Precision AB, the appreciated Swedish ammo manufacturer active since 1902, is becoming one of the top players in the U.S. ammo business too. Founded by the Enger brothers who named it after the homonymous opera by Bellini, in 1942 the company already had 800 employees. In 2002 RUAG Ammotec became the new owner of the brand and company. Over the years Norma introduced calibers such as the .308 Norma Magnum, forerunner of a series of proprietary cartridges such as the .338 Norma Magnum and the .300 Norma Magnum. Today, they offer a complete line of specialized ammunition for hunting, self-defense, sport shooting and recreational shooting, together with reloading components.
At the SHOT Show 2022, Norma took some of its latest and/or most innovative products for the US market: let's take a look at some of them. Norma is part of the Ammotec booth at SHOT Show 2022 where also other brands from the group are showcased: RUAG Swiss P, RWS, GECO, Rottweil or Hausken silencers. All these brands are owned by RUAG Ammotec. But at the impressive booth at SHOT you will also find the assortment of trade goods like Hausken, Nitehog and other brands for the shooting and hunting market in the US - and also available through the RUAG Ammotec distribution network in Europe.
New ammunition for home- and self-defense: Norma NXD and MHP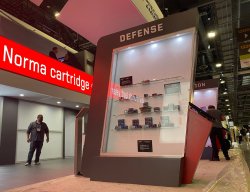 Norma's NXD (Non Expanding Defensive) and MHP (Monolithic Hollow Point) Fragmentation are two of the most effective options for home- and self-defense. The NXD ammunition features a uniquely designed non-mushrooming projectile that reduces recoil, increases velocity, and provides excellent feeding in numerous firearms. These qualities help to maximize and increase terminal performance, giving the shooter a consistent end result that meets or exceeds expectations. The Norma NXD is available in 9mm caliber, with a 65-grain bullet, followed by a number of other calibers that are highly valued, not least in the USA: .380 ACP, .38 Special, .357 Magnum, .40 S&W and 10mm Auto.
Designed for personal defense, the Norma MHP Fragmentation is a partially disintegrating variant of the popular deforming Norma MHP, which won the prestigious Bull's Eye Award in 2020. The MHP Fragmentation is a monolithic, lead-free copper bullet designed for those who prefer partial fragmentation bullets with greater depth of impact. The 5-part fragmentation results in excellent stopping power – it is actually one of the largest expanding defensive hollow point bullets in the world.
With an optimized load for reliable performance in all barrel lengths, its nose design results in reliable feeding in all pistol and carbine chambers. Specifically calibrated for consistent, devastating terminal performance, the Norma MHP provides reliable, excellent expansion, time-after-time. Calibers available are 9mm (108 grain), .380 ACP (85 grain), .40 S&W (155 grain), and 10mm (175 grain). 
Ammunition for big game Hunting: Norma Whitetail and Bondstrike
A classic among deer hunters all over the world, Norma Whitetail line of ammunition features Norma's proven soft-point bullet, matched with premium brass cases for top performances and reliability. The flat-based bullet also offers consistent accuracy. The exposed lead tip, coupled with an expanding quick lead core results in fast knock down effect and deep penetrative performance, delivering all its energy in the vital organs. The thin jacket guarantees expansion at high and low velocities. Calibers available include popular choices such as .308 Win., .300 Win.Mag., .30-06 Spring.,  .243 Win., 7mm-08 Rem. and 7mm Rem. Mag., .270 Win. and 6.5 Creedmoor.

Norma's Bondstrike hunting ammo is also well-known and appreciated by hunters worldwide, being characterized by the following features and advantages: a match bullet tail for highest BC value in class and high inherent accuracy, unique bonding technology for high residual weight and maximum impact, aerodynamic polymer tip for a high BC value and rapid expansion, and a thin front bullet jacket for faster expansion and better impact. The Bondstrike cartridges can be found in a wide range of calibers, and one of the latest additions is the 7mm (.284): the load features a 10.7g/165gr bullet with a G1 ballistic coefficient of 0.632 and a G7 ballistic coefficient of 0.313.
Norma Xtreme LR-22 cartridge: 2022 product launch of rimfire long-range precision ammunition with lead bullets 
Norma's new Xtreme LR-22 cartridge in .22 LR sets a new standard of precision at distances beyond 200 yards. The patented 2.8 g/43 gr bullet design features an elongated bullet tip for improved aerodynamics and a world's first rocket tail. The streamlined base causes less negative pressure at the tail, which ensures lower ground suction and thus higher flight stability, especially at longer distances. As a result, the projectile maintains speed over longer distances and produces an unmatched accuracy round after round. In combination with a higher velocity – Norma used a special powder for the Xtreme LR-22 – the bullet has a flat and stable trajectory, which makes it the perfect choice for long range target shooting. In addition, the increased weight of the bullet also leads to a lower crosswind sensitivity. This also provides consistent speed and grouping.
The Xtreme LR-22 cartridge is already available in the U.S. and will be available in Europe in the Q3 of 2022.