In a small Swedish village called Åmotfors, top class ammunition has been developed and produced for 117 years now. Founded in 1902, Norma can look back on an extremely long experience in the production of premium ammunition for hunting and sports - both in Europe and the USA.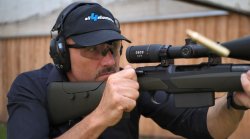 The ranges that have been in demand for some time in sports shooting, but also increasingly for hunting, are also extremely long – and increasing. The new Bondstrike Extreme ammunition line also features the "Boat-Tail" bullet rear from the sports sector. Together with its streamlined polymer tip, the Bondstrike Extreme is designed to deliver superior performance over all conceivable distances. This would make it the ideal ammunition for long range hunting, being optimally equipped for today's hunting requirements.  
The bullet can also unfold its full effect at medium ranges. Unlike most other bullets, which are designed for either medium or long ranges, the Bondstrike Extreme is designed to offer a convincing mushrooming performance in any hunting situation, from 50 m to an astonishing 1,000 m and with unique accuracy thanks to its flat trajectory! Norma proudly refers to the ballistic coefficient (BC) of 0.615 achieved by the Bondstrike in .30 calibers. This is the world's best value in this class!
Distances of 1,000 m are of course not an issue in Europe, but in the USA they are. With excellent results, Texas hunters have used the Bondstrike Extreme to contain the plague of wild boar from long ranges. With extreme accuracy and a convincing killing effect, the Bondstrike is said to be unchallenged under these conditions. However, the bullet should also be able to fully exploit these advantages from ranges of 50 - 100 meters.

Video: shooting the Norma Bondstrike Extreme in .30-06

Norma Bondstrike Extreme, outstanding performance
Thanks to the bonding technology of the bullet, a very high residual weight and a corresponding depth effect are ensured. The thinner front bullet jacket and the fast and controlled mushrooming create a consistent wound channel in game at all velocities. The consistently high knock-down power of the Bondstrike Extreme guarantees a perfect bullet performance in wild game body. This aspect should be of particular interest for hunters in Europe, where hunting over long distances is still less common.
At the same time, the outstanding ballistic properties of the Norma Bondstrike Extreme offer the hunter sufficient margin to be able to hit safely and accurately over long distances. The cartridge is suitable for medium to large game, such as roe deer, deer, moose and antelope. Its expansion characteristics and superior stopping power are designed to bring a large moose safely to the ground with a single shot, even at long ranges.

Together with the bullet characteristics, that are mainly known from the match area, the use of a special bonding technology enables a novel combination of accuracy with a fantastic BC value, penetration thanks to the very high residual weight, and stopping power thanks to the fast expansion. From test barrels, we measured velocities of 840 m/s with the 180 gr / 11.7 g Bondstrike Extreme!
Norma Bondstrike Extreme: our first impression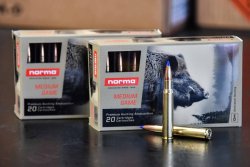 Norma advertising promises to stand for commitment, passion and enthusiasm in the field of hunting and sports shooting and, driven by this promise, to ensure the continuous development of its world-famous ammunition. The Bondstrike Extreme is the latest creation by the Swedes, who have already inspired many demanding hunters with their extremely impressive performances in a number of disciplines. Börje Sylvén, ballistics expert at Norma, stated: "This is the most accurate long range bullet we have ever made!"
After our first test of the ammunition on the firing range, we are convinced that with the Bondstrike Extreme Norma will absolutely live up to expectations.
We fired the Bondstrike Extreme in caliber .30-06 Springfield. This universal caliber is suitable for many game species, from red deer and wild boar to moose hunting in Sweden. The Bondstrike Extreme is also available in .308 Winchester, .300 Winchester Magnum, .300 Winchester Short Magnum and .300 Remington Ultra Magnum calibers.
By the way, the Bondstrike Extreme is also very interesting for the reloader. The required data can be found directly on the Norma reloading page. 
Norma Bondstrike Extreme rifle cartridges: details

| | | | |
| --- | --- | --- | --- |
| Caliber                | Bullet weight (g | gr)  | Package contents (pieces) | Price (UVP in Euro) |
| .308 Win. | 11.7 | 180 | 20 | 76.00 |
| .30-06 | 11.7 | 180 | 20 | 79.00 |
| .300 WSM | 11.7 | 180 | 20 | 97.00 |
| .300 Win. Mag. | 11.7 | 180 | 20 | 95.00 |
| .300 Rem. Ultra Mag. | 11.7 | 180 | 20 | 107.00 |
---
---
More information on the Bondstrike Extreme can be found on the new Norma website.