Titanial is the new technical clothing line dedicated to hunting by Trabaldo. We already talked about the trousers here: Trabaldo Titanial Warrior Pro and Invictus, new line pants, now let's discover at the IWA 2018 the garments that guarantee total protection and comfort to the hunter in every part of the body
Gilet Trabaldo Titanial Intrepid
The Intrepid vest is characterized by low weight and extreme resistance thanks to the use in the central area of the garment and in the reinforcements of Titanial, a fabric composed of a blend of high-tenacity fibers including Dyneema, 15 times stronger than steel. The Intrepid has enough space to carry accessories during hunting. There are four front pockets, a pocket for cartridge holders, a GPS holder and an expandable double-entry rear game-bag with separate compartments. All this is combined with a concept of modularity which is extremely useful for hunting. 
The vest can in fact be used together with the Avalon and Hard Top models to adapt to any environment and climatic conditions without sacrificing freedom of movement.
Trabaldo Titanial line: Hard Top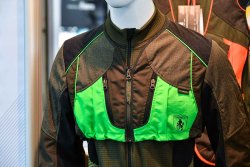 To be used on a daily basis or when the hunting environment becomes more difficult, the Hard Top is designed to be combined with the Intrepid vest worn either on the outside for maximum visibility or on the inside for the plain color version, thus giving total protection to arms when advancing in the woods.
This product stands out for its lightness, breathability and low volume, so that it can be used individually even during the warmer seasons. A drawstring with elastic at the bottom allows you to adjust the garment for a perfect fit. 

Trabaldo Titanial line: Avalon jacket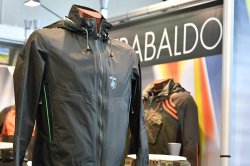 Avalon is the waterproof garment that provides a quick and effective solution in case of sudden rain. With its extremely low weight and volume, it can easily be stored in the game-bag and used if necessary.
The Rainsystem membrane guarantees to be waterproof without preventing perspiration, so that you can use Avalon even when moving. 
The side openings give direct access to the underlying layer so that it can be worn over another jacket without compromising access.
The zipper, waterproofed by the internal double flap, is designed to be hooked inside the Intrepid vest or to other products in the Trabaldo collection with double zipper.