We had the chance to thoroughly test the Pulsar Trail XP thermal riflescope with 640x480 sensor resolution, on a variety of hunting, sporting and professional rifles. 

As promised in our overview of the Pulsar Trail line of state-of-the-art thermal riflescopes published on all4shooters.com, here's the test of both available versions of the 640x480 native resolution Trail XP thermal riflescope, with the 38 and 50mm objective lenses. The optics have been completely redesigned, featuring world-class aspheric germanium elements, with coatings to protect the relatively soft Gemanium material from scratches and the elements.
Together with the high-end Ulis Pico Resistive Amorphous Silicon uncooled microbolometer sensor (with a NETD value measured at 30C° that reportedly is around 55 mK) and the improved Pulsar-manufactured digital image processor engine and electronics, surprisingly fine details and noise free images are displayed.
The Trail thermal riflescope uses a separate steel built Picatinny rail mount, that can be fastened on the riflescope's body in three different position so that correct eye relief and optic placement can be easily achieved; the mount also features adjustable QD lever rail grabbers. 
We mounted the Trail XP to a host of firearms: a semiautomatic Benelli Argo E-Pro .30-06 Springfield hunting rifle, a Steyr AUG .223 Remington sporting rifle, an Olympic Arms M4 rifle in 5.56mm NATO and on a Remington 700 bolt action hunting rifle in .308 Winchester.
On the AUG and the M4, the Trail achieves almost perfect sightline height above the bore, with excellent cheek weld with the stock; on the Remington and the Benelli rifles it is advisable either to mount an adjustable cheek piece on the stock or use a cheek raiser accessory. 

The ergonomics of the controls is excellent,  each button is indeed identifiable by feel; to operate the device you never have to break your hold or lose your target to look at the controls. As with every Pulsar night vision and thermal scope to date, the focus knob is very stiff when new. It does become slightly smoother with use though, and this is probably due to the tight O rings for IPX waterproofing.

The reticle can be chosen out of a predefined set, and zeroing is entirely done in the digital domain, including the well known one-shot zeroing that Pulsar has perfected in the years.
On the Trail XP50 each click is 27mm at 100m, and 200 clicks are available for elevation and windage; a total of 5,4 meters of adjustment is available at 100m. The click value for the XP38 is 45mm, with 9m of adjustment at 100m!

The thermal infrared world observed through the eyepiece of the Pulsar Trail is completely different from what we are used to see in the visible portion of the electromagnetic spectrum. We already described our surprise at length in the Pulsar Apex XD38 review, and we will not repeat ourselves; suffice to say, a small adjustment time has to be considered, and at least a full hunting season has to be experienced to be able to "read" the information that the Thermal riflescope provides thru the images observed in the eyepiece.

That said, the quality and definition that the 640x480 (that's full VGA) sensor can give is short of amazing, for us mere mortals that could afford low resolution thermal devices up to now. The quality of the image is so high that it is possible to almost double the zoom and still not lose significantly resolution, thanks to the resolution of the OLED microdisplay being the same of the sensor (640x480), and interpolation is only used above native magnification, unlike any other previous Pulsar thermal optic.
Detection range for the XP38 is 1350m, with 1800m for the XP50; recognition range varies, and in our experience for positive identification 400 and 500m is the absolute maximum respectively in ideal conditions.
The price is absolutely in line with the performance and technical features, and although steep, must be evaluated considering the state of the art status of the Pulsar Trail XP series of thermal riflescopes.
Pulsar Trail XP38 and XP50
SPECIFICATIONS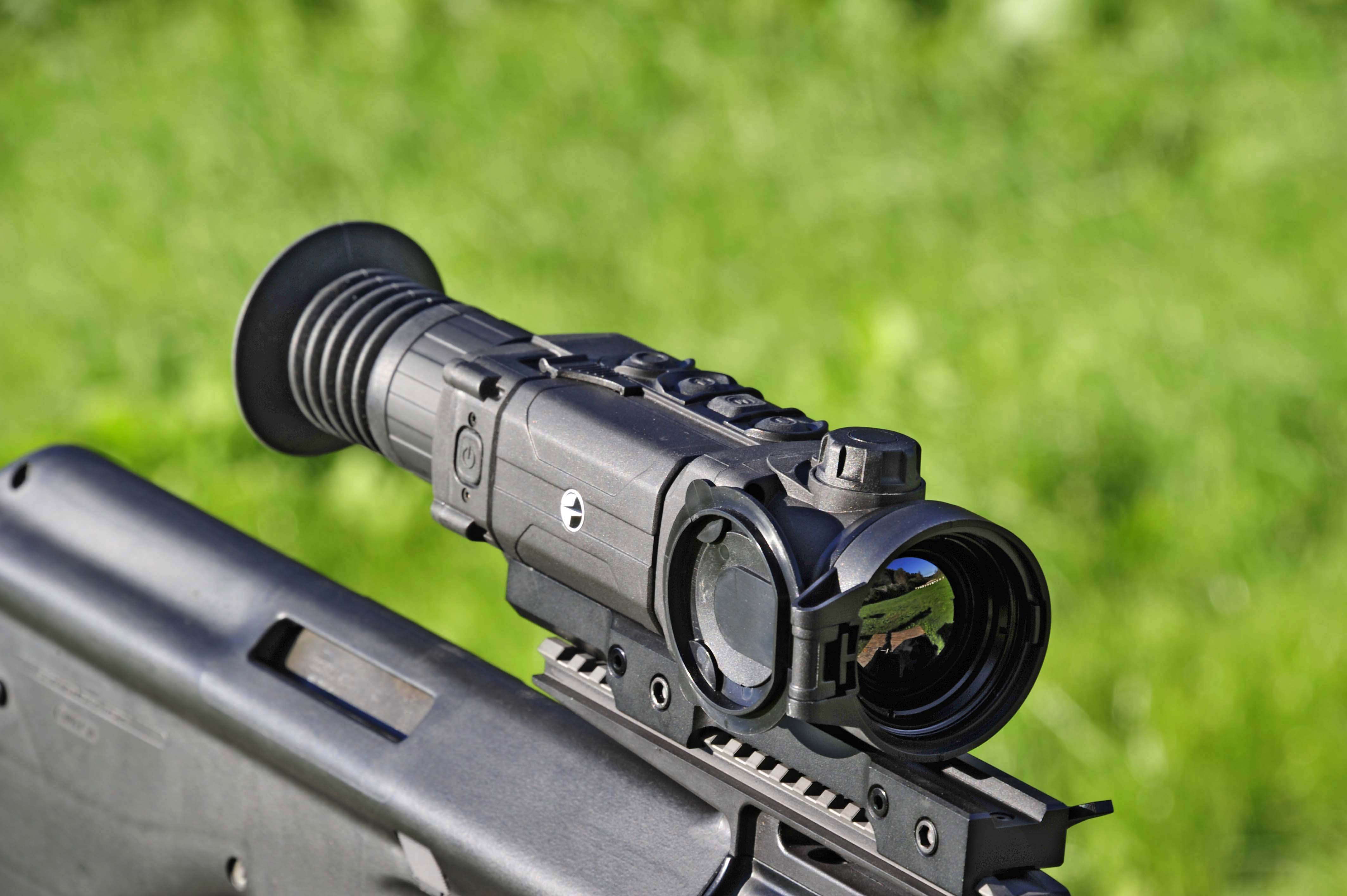 Manufacturer
Pulsar - Yukon Advanced Optics 
www.pulsar-nv.com

Model
Trail XP38 and XP50
Type
Thermal imaging riflescopes
Magnification
1.2x and 1.6 optical magnification, up to 9.6x and 12.8x with digital zoom
Lens focal length
38mm and 50mm F1.2 with full Germanium elements
Sensor
ULIS Pico 640 x 480 pixel (VGA) Amorphous Silicon microbolometer sensor with 17 μm pixel pitch
IR sensitivity
LWIR (from 7.7 to 13.2 um), NETD approximately 55 mK
Eyepiece
wide angle with 0.31" OLED 640 x 480 pixel B&W microdisplay, ± 5 diopter adjustment, 8 mm exit pupil, 50 mm eye relief 
Features

Max. observation range of a 170 x 50 cm rectangular heated object in optimal conditions: 1350 and 1800 m (lights a pixel at this distance)
Focusing range
5 m to infinity
Reticle
digitally generated, can be chosen from a set of preloaded patterns
Click value
27 and 45mm at 100m, 200 clicks available, total adjustment range at 100m, 5.4 and 9m
Dimensions
285x72x76mm and 292x72x76mm
Weight
500 and 600g without batteries
Materials/Finishes
Made entirely of composite glass fiber reinforced technopolymers on a metal frame
Notes
Powered by Pulsar B-Pack Li-Ion IPS 5/10 batteries, built-in DVR recorder, WIFI Stream Vision connectivity, Compatible with Android and IOS smartphones/tablets, MicroUSB socket, IPX7 waterproof certified
Price
N.A. (has to be requested to your local distributor)

---
For more informaton, please visit the Pulsar website.