Here on ALL4SHOOTERS.COM it has already been covered in the past: we're talking about it again because global distribution and word-of-mouth for this nifty gun has been so effective that it has quickly turned into an incredibly popular, very hot seller, both in Europe and north America, so much that the Turkish-based manufacturing company decided to open a north-American branch headquartered in the town of Des Plaines (Illinois), just to meet the needs and the demands of U.S. and Canadian shooters. It's somewhat of a "return to the roots" for this design, since the project that had it born was launched by an American company in the first place. As a matter of fact, it was Smith & Wesson that − almost thirty years after the launch of the now long discontinued Model 3000, its last commercially-distributed pump-action shotgun − contacted world-famous American gun designer Ted Hatfield to engineer a revolutionary 12-gauge pump-action shotguns for home and property defense, private security personnel, Police tactical uses and military operations. Hatfield got the inspiration for his project from an already-existing gun, the Truvelo Armory NS-2000 "Neostead" pump-action shotgun manufactured in South Africa, a sturdy and effective design that never went as far as it could, hampered by some degree of "raggedness" that makes it less than ideal to use by shooters who didn't follow an extensive training course.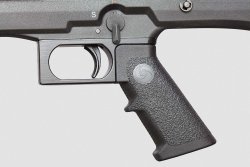 Despite Hatfield's work, which greatly improved the original design and made it cheaper and easier to manufacture in large quantities, Smith & Wesson dropped the project in 2007, opting to distribute a line of 12-gauge hunting-grade autoloaders instead − namely the Model 1000 and the Èlite − and abandoning completely the shotguns market shortly thereafter, due to poor sales. Ted Hatfield couldn't resolve himself into dropping so much hard work, and traveled to Turkey to have it made by the extremely dynamic local gun industry. That definitely was a smart move: Turkey has an extensive culture in fine guncrafting, and in the past decade or so its gun industry bridged the technology gaps that prevented it from manufacturing products that would be at least as good as their American or European counterparts; Turkish gun manufacturers have been flooding the European and north-American markets with high-quality guns ever since, and sometimes do manufacture parts for famous western brands to assemble, or complete guns under direct order, which European and American companies will later re-brand and re-sell at a higher price. The normally low cost of Turkish-made guns is mostly due to the lower price of local workmanship, and if these products still don't receive their well deserved praise, that's mostly because of the long-standing bias against the whole "Made in Turkey" stuff.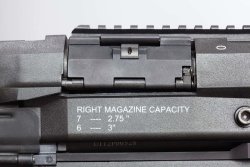 The company Hatfield went to, Antalya-based UTAS Makine (now UTAS International Ltd.) − had all the know-how and the technology to make things right in manufacturing a sturdy and innovative pump-action shotgun. Now known as the UTS-15, Hatfield's design is mostly based upon a carbon fiber-reinforced, injection molded polymer chassis that makes up for about 80% of the overall structure of the gun. Some narrow-minded observers mistook it for some sort of low-grade, rattling plastic at first, but it's sturdy enough to remain structurally solid and to keep the gun working even after falling from heights, after been crushed or run over multiple times. The UTS-15 is a conventional-cycle pump-action shotgun, although the feeding system is less than conventional, since ammunition is contained in two twin magazines located just above the barrel. The UTS-15 may be described as a "semi-bullpup design", in that the ejection window is located behind the action, right above the bolt, on the right side of the receiver. Each feeding tube features a magazine spring and a polymer follower, and is equipped with a polymer notch that protrudes from the side of the gun, running on a guide that's marked with numbers and thus acting as a quick indicator of remaining ammunition. The pistol grip, trigger group and safety lever configuration have been conceived to be as similar as possible to an AR15-type configuration, so that both civilian and professional (Mil/LE) users who are already fond with AR-15, M16 and M4-style rifles and carbines will familiarize with the controls quicker.
This video has been hidden because of an external service (YouTube) that could potentially collect personal data.Allow video services for the duration of the visitAllow video servicesStop allowing video services
This video has been hidden because of an external service (YouTube) that could potentially collect personal data.Allow video services for the duration of the visitAllow video servicesStop allowing video services
The ammunition capacity on the UTS-15 will vary according to the kind of ammunition used at any given time: each feeding tube will hold up to seven "standard" (70mm, a.k.a. 2.¾") 12-gauge shotshells or up to six "Magnum" (76mm, a.k.a. 3") 12-gauge shells; with an additional round in chamber, it counts up from a minimum of thirteen shots to a maximum count of fifteen shots available at any given time, which make the UTS-15 one of the highest-capacity shotguns available on the market today, and definitely the highest-capacity shotgun feeding through standard tubular magazines, since most hi-cap shotguns normally feed through detachable magazines. The UTS-15 shotgun comes without any standard sight of any sort, featuring instead a MIL-STD-1913 "Picatinny" railed top for iron sights or optical devices, additional slots for aftermarket Picatinny rails on both sides of the receiver, and a front slot on the handguard to allow quick fit of a tactical flashlight; it will also accept either a standard conic choke, a "tactical" choke equipped with a flash hider, or a 7.5-inches barrel extension − which can be made permanent for the sale in these jurisdictions that pose very high minimum legal lenghts for shotguns sold on the civilian market. The entire rear assembly features a top-opening lid that provides quick access to the chamber and moving parts for cleaning, maintenance, and clearing of jams, and even though the ejection window − protected by an AR-15 type dust cover − is located only on the right side, the stock portion remains long enough to allow left-handed shooters to fire it without having their face hit by hot spent cases.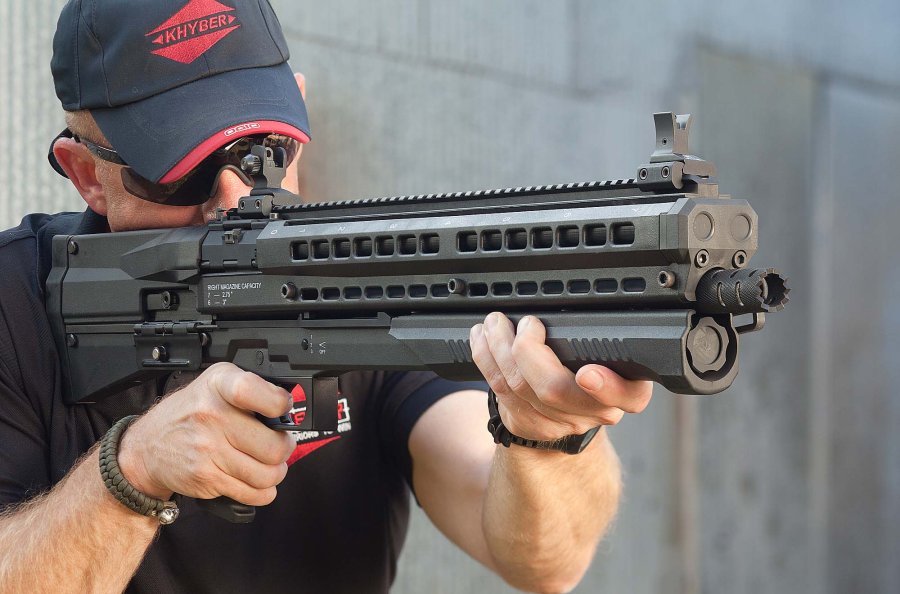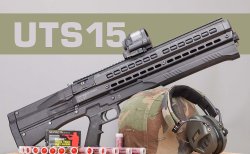 The UTAS UTS-15 shotgun is 72 centimetres long overall in its standard configuration, and sports a 18.5-inches barrel, cold-hammer forged out of a 4140 steel bar; the use of the barrel extension adds further 7.5 inches to the overall lenght. Again, we stress that what's particularly interesting in the UTS-15 system is its versatility, Much like the shotgun it has been extensively patterned from − the South-African "Neostead" design − it features two feeding tubes which can feed the weapon alternatively (a shot will be fed from each tube to the chamber every time the gun is fired and re-cocked) or selectively: a switch located on top of the gun, right behind the rear end of the top Picatinny rail, will allow the shooter to choose simply by moving it to one of the three available positions: right or left for left or right tube feeding, center for alternate feeding from both tubes. It's a great option to provide to shooters and professional operators, especially when it comes to apply the concept of scalar force to real-life scenarios.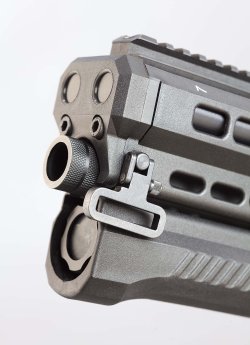 Nowadays, mass public disturbances (eg. riots) are not just something that a Police officer, a National Guardsman or a similar professional figure may have to face. Americans, Britons and many others are all too familiar to riots  − and the inhabitants of the city of Los Angeles remember the riots following the Rodney King scandal very well, particularly about the inadequacy of the Police force to quell them quickly and effectively and thus the need for many shopkeepers in the South Central area to defend their properties from looters and vandals for an indefinite amount of time. Plus, in current international military scenarios, peacekeepers or otherwise developed troops may have to absolve public order duties, in situations where use of excessive force and the subsequent collateral damages − such as the death of innocent civilians − may result in serious PR and political backlashes. In all these situations, a double-tube, selectable feeding system such as the one featured on the UTS-15 will allow operators to load each tube with different types of ammunition − both lethal and non-lethal − and to select the most appropriate one literally with a flick of a switch, passing from riot control ammunition to combat ammunition in seconds should armed militants appear behind protesting women and children as often happens in the Middle East; similarly, a SWAT team operator engaged in a dynamic entry situation may quickly switch from opening an entryway for his mates by using breaching ammo to rendering a hostage-taker harmless by firing a rubber baton. Some analysts tend to discourage the use of these alternative feeding methods, as operators − and civilians, in home or property defence situations − may select the wrong feeding tube under stress, with catastrophic consequences. Although this may be the case for unexperienced shooters, Police and military professionals are a whole another matter, and proper training would kick in almost automatically at the right time.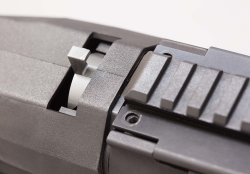 There's not much more left to say about the UTS-15, except that it is now available worldwide in most markets, or at least in those Countries that allow civilian ownership of shotguns and don't pose ammunition capacity limits or don't have "assault weapon ban"-type prohibitions. As of today, the UTS-15 is distributed in Canada, in the United States, in the Philippines, and all throughout Europe. Price per unit may vary depending from the chosen version, and will vary from Country to Country, from distributor to distributor and from retailer to retailer according to local policies. Manufacturer's suggested retail price in U.S. dollars normally shifts from 1100.00$ to 1600.00$ for the different variants, but lately the UTS-15 has been going for quite hefty prices, since the demand on the U.S. market has been so high that it has been absorbing most, if not all, of the UTAS production capabilities. Four different variants of the UTS-15 are available for sale so far: the baseline Black version, the non-glare digital blue camo Marine version, the Desert version − available either with a specially formulated, uniform desert-sand base coat or with a two-color non-glare digital camouflage pattern − and the Hunting version sporting a Mossy Oak camo finish.