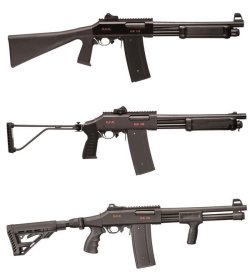 First announced halfway through the year 2015, the R.F.M. Armi KR-15 12-gauge pump-action shotguns line is finally available in Europe, and was showcased at the 2016 edition of the HIT Show, at a special launch price that ranges around 600 Euros.

Patterned after the well-known Valtro shotguns design, the 12-gauge, 76mm/3" (Magnum) chamber KR-15 pump-action shotguns are built around a black hard-anodized lightweight alloy receiver and feed through a detachable box magazine, offering an overall capacity of six shotshells (five in the magazine, one in chamber); the forged steel barrels, treated with an outer black glare-proof finish, are available in three options: 36 centimetres (14.17 inches), 41 centimetres (16.14 inches) or 45 centimetres (17.72 inches).
The R.F.M. Armi KR-15 pump-action shotguns are available with a pistol grip and either a classic polymer full fixed stock, a side-folding metal stock with a polymer buttpad, or an ergonomically-shaped pistol grip and an M4-type folding and adjustable stock. 
The forend for the R.F.M. Armi KR-15 shotguns is available in a standard full black polymer version or in a smaller version with a vertical foregrip.
Some of the common features of all the KR-15 shotguns are a top MIL-STD-1913 Picatinny rail for optical sights and an set of LPA Ghost Ring high-visibility and adjustable sights.