Is it possible to significantly reduce a rifle weight without compromising long-range accuracy? According to Proof Research, a company committed to "developing next-generation composite materials to produce the highest performance" since 2012, yes, it is. And the result is the new Conviction Ti Lightweight Precision Tactical rifle, especially developed for long-range shooters.

"When we designed our Conviction Ti our goal was simple - design an extremely accurate long-range precision tactical rifle that weighs a fraction of traditional precision rifles," they explain. How light? Starting weight is a mere 6 lbs. 6 oz., and the Conviction Ti is backed by Proof Research's SUB ½ MOA guarantee. And to achieve this they combined a lightweight titanium receiver with a carbon fiber-wrapped, match-grade barrel and a laid carbon fiber stock.

The ergonomic design features an adjustable cheek piece, near vertical grip, integral rail, low-profile flush cups and a wider forearm to accommodate an EFR mount. Add to this  a TriggerTech trigger, a Pachmayr recoil pad, and above all Proof Research's Extreme-Accuracy bedding technique. The latter should further ensure "uncompromising accuracy over extreme distances," according to the manufacturer's claim. The magazine is a detachable box type.  As for calibers, there's plenty of choice: 6 CM, 6.5 CM, 6.5 PRC, 7mm Rem, .28 Nosler, .308 Win, .300 WSM, .300 WM, .300 PRC, ..300 RUM.

Conviction Ti: for the hunter, competitor, and military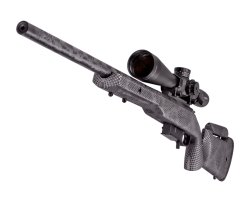 The Conviction Ti is conceived for the hunter, competitor, and military, and any situation where weight is an important consideration. The rifle weighs in fact between 6 lbs. 6oz and 8 lbs. 2oz. depending upon the specific build. And even when fully kitted with scope, suppressor and bipod, the Conviction Ti still comes in under 13 lb/5900 g – "Half the weight of traditional tactical rifles," as duly pointed put by the guys at Proof Research.
The Conviction Ti is offered with 20" to 28" barrels (Twist: 1:7 to 1:10), but custom lengths are available. Other options include the Cerakote action colors (Flat Dark Earth, Olive Drab, Black, Tungsten, Sniper Gray), the stock color (you can choose between nine colors, from Black Granite to Cotton Candy), the bolt knob (modified ball or tactical). Muzzle Brakes are available for an additional charge

Unfortunately the price, starting at 8499 USD, is not as light as the rifle itself – but this is a gun designed for serious shooters who need long-range accuracy, performance, and reliability under any environmental condition.