Italians are said by art and design lovers to have a special flair for beauty and aesthetics. With its CX4 Storm carbine, the original model of the Umarex CO2 version introduced here, the manufacturer Beretta once again lived up to this assessment. The visual design of the Beretta CX4 Storm came from the studio of industrial design, Giorgio Giugiaro, world famous for car designs.
The main visual element of the CX4 Storm's sleek appearance is the dramatically sculpted thumbhole buttstock and tapered forend that grows directly from the trigger guard. The raised protective ears for the sights skillfully continue the lines and contours of the weapon. But the Beretta CX4 Storm is not only visually impressive: the leading carbine impresses with its practical handling and ease of use, which qualified it as a service weapon of the Italian police.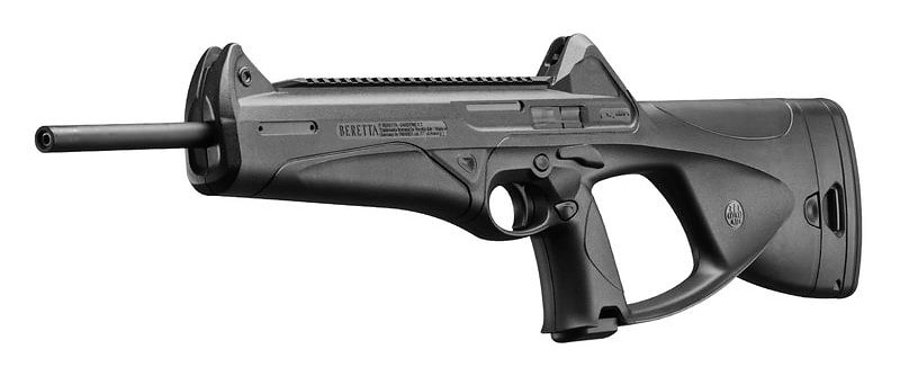 Features of the Beretta CX4 Storm from Umarex
Visually fascinating, sleek, easy to handle and equipped with decent power: like the original, the CO2 air rifle sits firmly in the grip and is ergonomically very comfortable to use. For a sports and leisure airgun, it has a particularly high manufacturing quality – the Umarex-Beretta plays in the premium class of CO2 guns and also feels very valuable with its glass-fiber-reinforced composite stock.
Thanks to a large 88-g CO2 cartridge fill, the Beretta CX4 Storm is not only highly effective with 7.5 joules of energy, but also accurate. One cartridge lasts for up to 200 rounds – which also makes fast series possible, depending on how quickly you operate the trigger. Thus, nothing stands in the way of the long-lasting fun. The specially developed bet-fed magazine of the Beretta Cx4 Storm holds a full 30 pellets, which are fired particularly realistically thanks to the blow-back system.
A laterally adjustable aperture rear sight with height-adjustable front sight allows individual adjustment to the shooter. However, accessories such as scopes, red dot devices or lasers can also be mounted on the long Picatinny rail of the Beretta CX4 Storm as desired. And this is where the XT version of the Beretta CX4 Storm comes into play: with it, the Beretta CX4 Storm is available in a set with the Walther 4x32TriTac riflescope including Picatinny mount, a bipod and silencer. Price of the basic version of the Umarex Beretta CX4 Storm in the UE is approx. 310 euros. The Umarex Beretta CX4 Storm XT with scope, bipod and silencer is priced at around 350 euros – prices may vary in your specific country. In any version of the Beretta CX4 Storm, an instruction manual and a high-quality Beretta carrying case are included.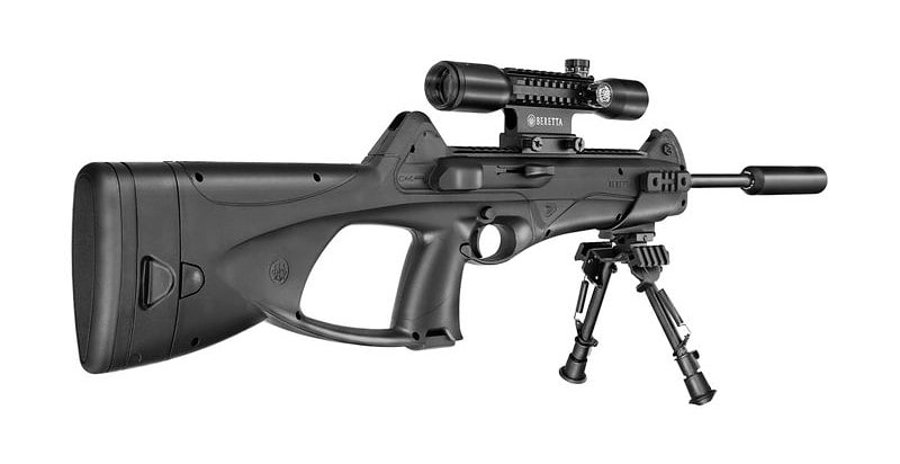 Umarex Beretta CX4 Storm specs and price
| | |
| --- | --- |
| Model:  | UMAREX Beretta CX4 Storm |
| System:  | CO2 Blow Back |
| Power Source:  | 1x 88 g CO₂ |
| Caliber: | .177 (4.5 mm) |
| Barrel:  | Rifled  |
| Magazine capacity:  | 30 rounds |
| Overall Length:  | 2400 g + 960 g (XT: scope, bipod, silencer) |
| Weight: | 30.7"/780 mm (35.8"/910 mm with silencer) |
| Energy:  | 7.5 joules max. |
| Exit velocity:  | 175 m/s |
| Safety: | Push-button safety catch |
| Price: | 310 euro approx. / XT Set: 350 euro approx. |
Umarex Beretta CX4 Storm CO2 rifle: wrap-up
Whether individually or in a complete package: the unusual CO2 carbine from Umarex is a high-quality "Made in Germany" product with an extraordinary design, for which you have to dig a little deeper into your pocket, but which should give all recreational and sporting shooters with high demands a lot of pleasure for a very long time.
---
Further information about the Beretta CX4 Storm CO2 carbine and all other products can be found on the Umarex website.