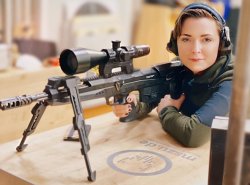 The Xceed multi-caliber sniper rifle comes from Tec Target Schneider (TTS). Its bullpup design is particularly striking, allowing especially short and thus manageable overall weapon lengths. 
So far, TTS has offered the rifle in calibers such as 6 XC, 6.5 Creedmoor, 6.5x47 Lapua, .308 Winchester, .300 Winchester Magnum and .338 Lapua Magnum. On all4shooters.com we already introduced the rifle in detail and test fired it. 
Now TTS has also introduced the Xceed in the new, Swiss high-performance .375 Swiss P caliber from RUAG Ammotec. A good reason for all4shooters.com to take a closer look at this extraordinary combo.
The .375 Swiss P cartridge from RUAG Ammotec in detail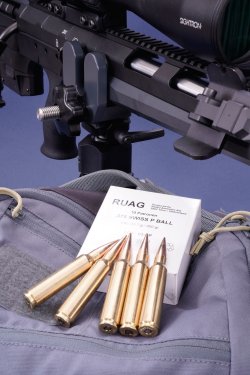 Thun (CH) based RUAG Ammotec recently launched a new sniper rifle caliber on the market that, despite a considerable increase in performance compared to the popular .338 Lapua Magnum, is compatible with common weapon systems in the latter caliber, requiring only a barrel change. The RUAG .375 Swiss P is already available with a full metal jacket bullet and is expected to be available with hard core bullet by the end of 2021. The .375 Swiss P is intended to close the ballistic performance gap between .338 Lapua Magnum (8.6x70 mm) and .50 Browning Machine Gun (12.7x99 mm). Connoisseurs will rightly note that calibers such as the .375 CheyTac (9.5x77 mm) have already been developed for this purpose. However, the US caliber has never found its way to Europe on a large scale. In addition, CIP removed the cartridge from the European list last year, so firearms in this caliber are no longer fired. Compared to the .338 Lapua Magnum (LM), the .375 Swiss P has up to 40% more power, so according to the manufacturer, the 350-grain (22.7-gram) full metal jacket bullet from a 30"/76-cm barrel achieves a muzzle energy of 8500 joules at a muzzle velocity of 865 m/s, compared to 6100 joules for the .338 LM.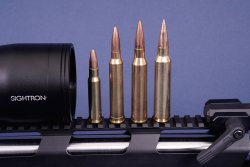 With given cartridge dimensions, the .375 Swiss P requires only a barrel change for .338 LM platform rifles without swapping bolt and magazines for caliber conversion. The increase in performance is realized through a tuned high performance propellant as well as the cartridge contour featuring a rebated rim. In this design, the case diameter above the extractor groove is larger than the case base diameter, which increases the powder chamber volume. The maximum allowed pressure is 4200 bar. In addition to minimum tolerances in production and the most aerodynamic possible tip design, the position of the center of gravity is also decisive for top accuracy in a bullet for long-range use. In order to shift the center of gravity of the projectile as far as possible towards the rear, the newly developed .375 Swiss P full metal jacket bullet has a metal ball in the bullet tip, which forms an empty volume there and also has a lower density than the lead core.
As a result, RUAG Ammotec has actually succeeded in improving the ballistic coefficient of the full metal jacket bullet compared to a classic hollow point, boat tail long-range match bullet. The .375 Swiss P has a supersonic engagement range of over 1500 meters and the full metal jacket projectile produces 1500 joules, more than twice the energy of the .338 LM with 250 grains (16.3 grams) full metal jacket bullet at that range. The .375 Swiss P hard-core bullet, with a tungsten carbide penetrator in a cobalt alloy core, a closed base, and small open tip also impresses with its effective construction, which is designed for maximum penetration, even on hard targets. With this load, it is even possible to safely penetrate an SK4 class/ NIJ level IV protective vest at 600 meters under standard conditions. RUAG Ammotec developed the new .375 Swiss P based on current requirements from military users circles. The high-performance caliber makes weapon conversion extremely simple and cost-effective. In addition, users can continue to work with their familiar weapon system while maintaining the same handling characteristics, which represents a major tactical advantage in practice.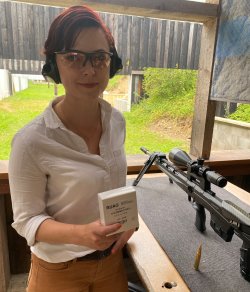 On the shooting range with the TTS Xceed in caliber .375 Swiss P from RUAG Ammotec
With the only factory cartridge available so far in the form of the RUAG Ammotec 350-grain .375 Swiss P with full metal jacket bullet (overall cartridge length: 93 mm) in sufficient quantity and the TTS Xceed set up for the new caliber, we moved to the 500-meter shooting line. There, at a velocity of 792 m/s and a deviation of 8 m/s, we were able to achieve a best grouping of 4.25"/108 millimeters, which is quite a good result at this distance. 
At the range we had the great advantage that the velocity values were displayed at different distances. With the data obtained, we were able to easily determine the ballistic data of the rifle-ammunition combination and feed it to our cell phone app. This allowed us to get the rifle zeroed in at 500 meters on the first try. We shot several 5-round groups after zeroing-in, all of which were between 4.25"/108 mm and 5.23"/133 mm.
TTS Xceed in .375 Swiss P specs and price
| | |
| --- | --- |
| Model: | TTS Xceed |
| Caliber: | .375 Swiss P |
| Action: | Bolt-action with six locking lugs in two rows locking directly into the barrel |
| Barrel: | 29"/740 mm long Lothar Walther stainless steel barrel with 1-12" twist and titanium compensator |
| Stock: | Adjustable-length buttstock with integrated rear spur (quick and fine adjustment) and spring-loaded cheek piece with fine detent, free-standing molded grip and interchangeable forend in two lengths with KeyMod slots on the underside that allow short mounting rails to be installed |
| Magazine:  | Single-stack box magazine made of sheet steel with a capacity of 5 cartridges  |
| Trigger:  | Fully adjustable match trigger set to 880 grams |
| Safety: | Three-position safety on both sides of the grip |
| Overall Length:  | 34.44"-43.30" (875-1100 mm) |
| Weight: | 16.75 lb/7.6 kg |
| Price:  | from 11,400 euros  |
New high performance .375 Swiss-P caliber from RUAG: test conclusion
The .375 Swiss P is an interesting new high performance long range caliber, which thanks to its smart design makes caliber conversion from existing sniper rifles in .338 LM very easy. We were quite impressed by both the rifle and the cartridge. The development goals were absolutely achieved. What role this caliber and this combination of weapon and (actually) military ammo will play in the civilian market in the future, is currently still open. As far as the gun – the TTS Xceed – is concerned, there are numerous caliber options, as we already mentioned at the beginning. Due to the technical effort involved in developing the rifle, prices start at around €11,400.