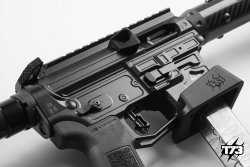 Tactical 73, or T73 for short, is an Italian company that over the past few years has gained a solid reputation in selling accessories and complete tactical-style guns based on the AR-15 design. About a couple of years ago we inotroduced the TAC11, an exclusive 9mm custom-built pistol for dynamic shooting. Today it is time to take a look at this new superlight model.
The heart of the Ultra V2 Skeletrico semi-automatic carbine is the superlight receiver (upper and lower) machined from solid aluminum billets. The T73 blowback system ensures reliable cycling. The standard main recoil spring is contained in the rear tube, and upon request the gun can be ordered with a short-stroke gas piston system featuring a hydraulic buffer. The magwell features an eye-catching Tac73-manufactured funnel for easy magazine change. The trigger assembly is manufactured by Tactical 73 itself. Safety is ambidextrous, and the magazine release is an extended type made of 6065 aluminum. Upon request, the bolt release is also available in an ambidextrous version. The carbine is fed by Glock 27-round magazines and can also use compatible Magpul magazines.

On the top of the upper receiver we find the Picatinny rail that allows the Skeletrico to be fitted with iron or optoelectronic sights.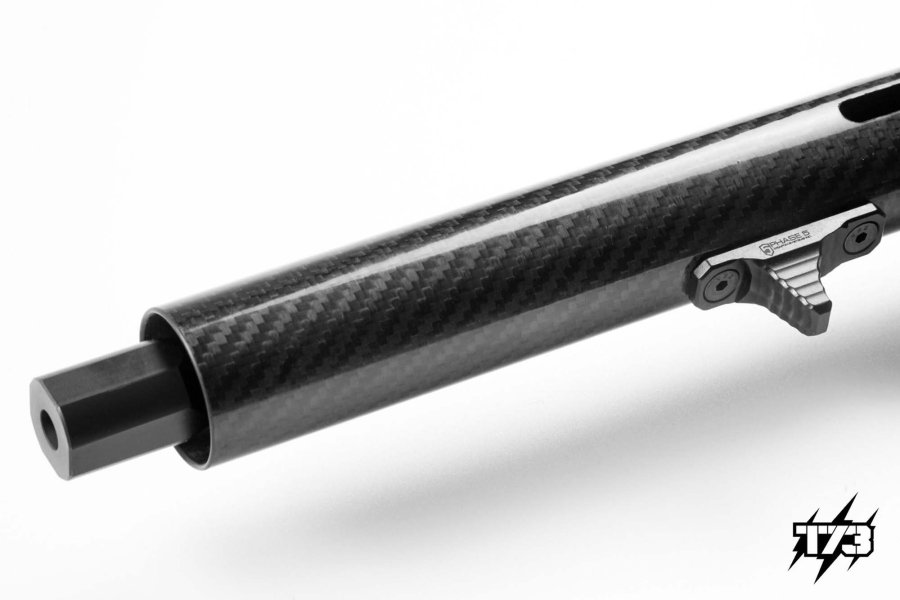 Stock and handguard are made of carbon fiber and are distinguished by their absolutely essential construction (they are simple tubes, actually). The recoil pad is made of aluminum with non-slip millings. The AR-15-style pistol grip is Mil-Spec and can be replaced with the countless compatible products on the market. At mid-length on the handguard we find a small finger stopper that allows for better indexing of the gun and prevents a weak hand from slipping dangerously toward the muzzle. The barrels are available in various lengths between 8 and 16 inches (20 and 41 centimeters), and features a T73 Comp stainless steel muzzle brake. Weight depends greatly on the accessories selected, but to give you an idea, the 10.5-in barrel version weighs in at 2.6 kilograms.

Tactical 73 TAC 9 Ultra V2 Skeletrico specs and price

| | |
| --- | --- |
| Manufacturer: | Tactical 73 - www.tactical73.com |
| Model:  | TAC9 Ultra V2 Skeletrico |
| Caliber: | 9mm |
| Type: | Semi-automatic pistol caliber carbine |
| Operating System:  | Blowback |
| Barrel Length:   | 8-16" (20-41 cm) |
| Weight: | 91.7 oz/2,600 g (without optics) |
| Magazine: | Double-stack 27-round, Glock compatible |
| Sights: | None, Picatinny rail |
| Stock: | Carbon fiber buttstock and handguard |
| Price:  | 3,000 euros approx. |