Article also available in other languages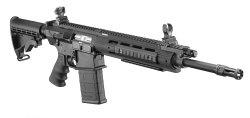 Let's state it loud and clear: here at ALL4SHOOTERS.COM, we tend to dislike terms and nomers like "Military-style rifle", "Paramilitary-style carbine", "Assault weapon", "Military-Style Semi-Automatic", and so on. Other than just incorrect, these are derogatory terms invented by the anti-gun fronts in the United States and in other Countries to design those semi-automatic, civilian-grade long guns aesthetically and (partially) technically patterned after military-issue models − and said disparaging terms were invented for a reason: the anti-gun movements have been trying, ever since the 1980s, to take in and fool the public opinion into thinking that these are the exact same thing as military-issue full-automatic, select-fire assault rifles or carbines ("machineguns"), so to obtain a stronger political and public support in their endless effort to ban private ownership of said guns.
Personally, we prefer the much more appropriate "Modern Sporting Rifles" (MSRs) term to address to these rifles and carbines, as this nomer not only reminds us that all sporting rifles have a military-linked basis (all rifle designs, even the most politically-correct lever-action or bolt-action ones, started their lives for the military decades, or even centuries ago!), but also is a firm statement of the fact that, just because a civilian gun spawns from a military-issue weapon, that doesn't mean that it's more dangerous or deadly, but merely more reliable and... modern. As a matter of fact, evolution of civilian-grade firearms goes along with the evolution of military-issue guns; as soon as military-issue firearms prove to be obsolete for military purposes − or, most of times, even before that... when they turn out to be as affordable and reliable as it's desired! − they are adapted or "recicled" for civilian sporting, hunting, and defensive purposes. It's a fact of life, a natural process, and no anti-gun agenda will ever, ever stop that.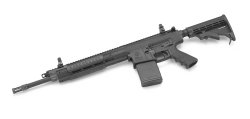 The U.S. arms industry has of course always been at the cutting edge of this process, and reasons are simple: the U.S. market is the world's biggest for civilian firearms, their gun culture is more open and modern, their laws are less absurdly restrictive (well, generally speaking... U.S. local, State and Federal gun laws have their good share of absurdities!), and most of all, these civilian-grade firearms are often manufactured by the same American company that produce military-issue versions of the same designs.
There seems to be no crisis for the arms market in the United States; on the contrary, Americans tend to buy even more guns and ammunition when times are dire or uncertain, and particularly when they sense that "a storm is coming" − this meaning, when some high-level politician starts blabbering about Gun Control, no matter if a new law comes out or not! − sales immediately boom: law-abiding American citizens rush to buy arms and ammunition, in fear that they may no longer be allowed to do that in the future; and the American manufacturing companies boost their manufacturing levels to meet the increase of the demand.
That's the reason why, a couple of years ago, the Sturm, Ruger & Co., Inc. company decided to seriously take on the Modern Sporting Rifles market. Up to fairly recently, their only centerfire semi-automatic rifles were the 10/22 rimfire carbines, the pistol-caliber "Police Carbines", the hunting-oriented "Deerfield" series, the .223/5.56mm Mini-14 rifle and all the variants thereof, including the 6.8x43mm versions and the 7.62x39mm Mini-30. The Ruger firearms company introduced the SR-556, .223 Remington/5.56x45mm caliber semi-automatic rifle in the year 2009, and a plethora of variants followed as the years went by. The SR-556 is a piston-driven weapon featuring excellent workmanship, quality and performance levels at a very low price for the segment, and as such it instantly became a top seller in north America and abroad.

Now, after four years and four .223 caliber variants, Ruger goes "full circle" with its AR-type rifles line: just one week ago, the company launched the Ruger SR-762 .308 Winchester/7.62x51mm semi-automatic rifle.
The SR-762 represents Ruger's take on Eugene Stoner's early AR-10 7.62x51mm-caliber battle rifle design, which was later modified by Stoner himself − with the contribution of other important figures in the American arms engineering world of the late 20th Century, such as C. Reed Knight and L. James Sullivan − to fire the new 5.56x45mm caliber round as the AR-15... and the rest is history.

Controls configuration on the SR-762 rifle − magazine release and hold-open catch, manual safety cocking handle − is basically the same we're now used to find on AR-10 and AR-15 derivatives, with one exception: the SR-762 is one of the actually very few AR-10 knockoffs out there to feature a forward assist button.

Chambered for the 7.62mm/.308 Winchester caliber, the Ruger SR-762 is conceived for all possible civilian-grade purposes: hunting, leisure plinking, range shooting, competition, up to personal, home and property protection, private security purposes and Police duties in these jurisdiction where full-automatic weapons are restricted to SWAT use and where average Law Enforcement officers are issued with semi-automatics or repeaters only.
Both the upper and the lower receivers of the SR-762 rifle are fully machined out of a solid billet of 7075-T6 aluminium alloy and feature a full manganese phosphate/hardcoat anodized protective finish that makes them impervious to water, moisture dust, salinity, chemicals, and other aggressive factors that may lead to rust or damage. The SR-762 also features Ruger's own-designed lightweight, ventilated aluminium handguard, coming with two MIL-STD-1913 "Picatinny" rails for tactical accessories and drilled and tapered for the installation of further aftermarket Picatinny rails if required.
This video has been hidden because of an external service (YouTube) that could potentially collect personal data.Allow video services for the duration of the visitAllow video servicesStop allowing video services
As a matter of fact, the only polymer parts to be found on the SR-762 rifle are the M4-style four-positions collapsing stock − mounted on a MilSpec-diameter buffer tube and conceived to quickly adapt the pull to the user's own height, built, and personal equipment − and the Hogue Monogrip ergonomic pistol grip, coming with Ruger factory markings, which may be removed and replaced with any aftermarket pistol grip.

The Ruger SR-762 comes with no iron sights at all; instead, a full-lenght top Picatinny rail makes it compatible with most, if not all, of the aftermarket optical devices and back-up/foldable iron sights that can be found on the commercial market nowadays.
The magazines are polymer-made as well: more specifically, the Ruger SR-762 rifle features an SR-25 (non AR-10) magazine well, so that only SR-25 spec magazines will fit. The SR-762 comes factory-issued with 20-rounds MagPul PMAG-20LR 7.62x51mm/.308-Winchester magazines.

The Ruger SR-762 semi-automatic rifle comes equipped with a 16-inch-long, fully fluted Mil-Spec 41V45 chrome-moly-vanadium steel cold-hammer-forged barrel, featuring a full protective black finish, a chrome-lined bore with six right-handed grooves (1 twist pitch in 10"), and Ruger's very own SR-556/Mini-14 birdcage-type flash hider mounted on a 5/8"-24 muzzle thread.
Operation is based upon Ruger's revisitation of the now almost industry-standard short-stroke gas piston system, featuring a four-position gas valve regulator notch allowing the shooter to set the gas tapping according to the type of ammunition in use, so that no matter if you use varmint, hunting, combat or high-accuracy ammunition, top-notch or low quality loads, you'll always get the best from the Ruger SR-762 rifle.
The Ruger SR-762 semi-automatic rifle was released on the U.S. market on October 17th, and as such, distribution is barely starting in the United States and hasn't started elsewhere yet. Manufacturer's suggested retail price for the Ruger SR-762 in the U.S. tops US$2195.00, including three MagPul PMAG-20LR magazines, a soft-sided case, and three finger-grooved rail covers.