Headquartered in the Austrian town of Kleinraming, the Steyr-Mannlicher GmbH group is not just a well-known manufacturer of service and defense handguns, hunting and long-range shooting rifles and military assault rifles: its Steyr Sportwaffen branch − commonly known as "Steyr Sport" and headquartered in another Austrian town, going by the name of Ernsthofen, about 16 kilometres north-east of Kleinraming − is a globally acknowledged premier manufactured of CO²-powered and PCP-powered air pistols and air rifles for hunting, training and ISSF shooting.


New from Steyr Sport this year is a nifty pre-compressed pneumatic carbine conceived to meet the needs and tastes of all airgun hunters out there, and patterned after one of Steyr Sport's most notorious air rifles, the "Hunting 5".
First showcased earlier in March at the 2014 edition of the IWA & OutdoorClassics expo in Nuremberg (Germany), the Steyr Sport Hunting 5 Automatic is a departure from the standard "Hunting 5" platform in that the large cocking handle located on the rear right side of the receiver, just over the pistol grip and the trigger guard, only needs to be cocked once; after that, the gun will fire in semi-automatic (one shot at every pull of the trigger) until all pellets are depleted.
This will provide shooters with a superior volume of fire if compared with the previous variant, this meaning quicker follow-up shots for one more hole on the paper target or for a possibility to catch that hare that's been near-missed or just gazed by the first shot.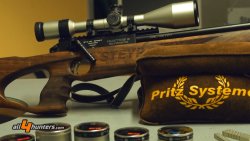 Built around a matte black finished steel receiver and a high-grade stainless steel barrel for further accuracy, the Steyr Sport "Hunting 5 Automatic" air gun also sports an elegant walnut stock with ergonomically-shaped pistol grip and a thumbhole buttstock, also featuring itself a raised cheekpiece and a synthetic buttpad.

A scope can be mounted on standard 11mm guides on top of the receiver, and the Steyr Sport "Hunting 5 Automatic" is also equipped with a manual safety switch.

Steyr Sport's new air rifle is powered through a long PCP air canister with a new, patent pending sealing that provides less leak possibilities and a higher capacity. Also, a new piston system operates to provide quicker shooting, a particularly useful feature on small running preys.

The Steyr Sport "Hunting 5 Automatic" air rifle feeds through a five-shots stripper clip, optimized to use "Diabolo" pellets" and inserted on the rear left portion of the receiver. As the airgun is fired, the stripper clip will move to the right, and when it runs dry it can be removed through a specular port located just behind the cocking handle. There is no "chambering" of the pellets in the Steyr Sport "Hunting 5 Automatic" air rifle, as the chambers of the stripper clip act as the chamber for the rifle itself; this means that even when the gun is cocked, removing the stripper clip puts it in complete safety conditions, as there's no more ammunition there to be shot, even by mistake.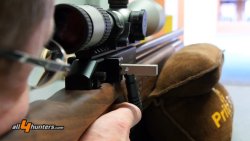 The Steyr Sport "Hunting 5 Automatic" airgun is available in 4,5mm/.177 and 5,5mm/.22 calibers. The 4,5mm version is 850mm long overall, and sports a 450mm long barrel; the 5,5mm version is instead 1 meter long and comes with a 55cm. barrel.
Several power gauges, or thresholds, are also available for each caliber. The 4,5mm/.177 Steyr Sport "Hunting 5 Automatic" air rifle in three versions, respectively developming 7.5, 16 or 25 Joules of energy at the muzzle. The 5,5mm/.22 model instead comes in 16, 24 or 40 Joules muzzle energy capable versions.
The standard mechanical trigger has a weight ranging from 50 to 250 grams − truly a hair trigger! − and the overall weight of the Steyr Sport "Hunting 5 Automatic" airgun also ranges from 3,1 Kg. for the 4,5mm/.177 version to 3,3 Kg. for the 5,5mm/.22 version. Despite the very light trigger, the "Hunting 5 Automatic" offers an extremely low recoil level, due to the utterly limited moving mass.

This video has been hidden because of an external service (YouTube) that could potentially collect personal data.Allow video services for the duration of the visitAllow video servicesStop allowing video services