In a real "Operation Nostalgia", to commemorate the 40th anniversary of the AUG, Steyr Arms has introduced the STG 77 SA rifle: a limited-edition version that reproduces almost all the details and characteristics of the original Armee-Universal-Gewehr introduced in 1977 and adopted by the Austrian Army the following year. 

Even if it was a weapon with a conventional gas-piston-operated action firing from a closed bolt, when it was marketed the AUG caused some stir with its extensive use of polymer components and its futuristic, tool-like look (somebody even found it resembled a large Black&Decker drill). Yet, over the years it won many enthusiasts thanks to its reliability and ruggedness, being also adopted by the armed forces of Argentina, Australia, Ireland, Malaysia, New Zealand, Saudi Arabia, Tunisia, Pakistan and many others.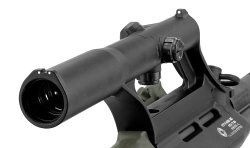 This highly anticipated commemorative version is equipped with a chrome-lined 20 inch barrel (it's the first U.S.-built production AUG variant to come standard with a 20" barrel) and a 1.5 X scope with the circle dot reticle that was found on original STG77 scopes. The only difference is that unlike the original optic that required a special tool to adjust the windage and elevation, the STG 77 reticle can be adjusted with a coin.  

The "new" limited-run STG 77 has been enhanced with a newly designed forward assist located on the charging handle and has matching numbered receiver, barrel, and bolt carrier with a special assigned serial number of STG77XXX.

The barrel is cold-hammer forged and profiled to the original 1977 specifications. At the muzzle we find the tulip-style brake with the original "hex" check nut. Receiver is hard Eloxal-coated aircraft aluminum. Caliber is 5.56x45 mm. True to the original AUG, there are no Picatinny rails, even if the scope can be removed and replaced with the standard Steyr Picatinny rails available for the AUG A3 M1. The reinforced polymer furniture is, of course, in the classic Olive Drab Green. The rifle accepts Steyr's proprietary 30-round translucent magazines with a matching OD green floorplate: one magazine is included. Ten and 42-round magazines are also available.
Mechanically, the STG 77 integrates all the later AUG improvements, such as the upgraded firing pin part. Another modern improvement is the quick detach front sling swivel instead of the original pinned swivel. The stock proudly boasts on the right side a laser engraved Steyr logo above "STG77 40th Anniversary."

The MRRP of the STG 77 SA is 2,625 US dollars.