Article also available in other languages
The SIG Sauer group christened the launch of the 2014 edition of the EUROSATORY expo in Paris, today, by showcasing its SIG556xi modular weapon system. The same platform had already been showcased in semi-automatic versions at the SHOT Show in January, and at the IWA expo in March; however, its presence at the EUROSATORY expo confirms how SIG Sauer intends the SIG556xi to become its new paradigm in advanced individual armaments.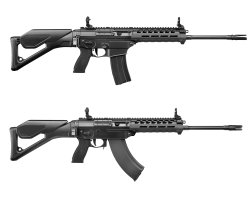 The SIG556xi weapon system combines some tried-and-true, typical SIG features with a plethora of design innovations. SIG's standard, Kalashnikov-based long-stroke piston system is hereby combined with a three-positions gas valve regulator that will ensure total reliability in any conditions and any barrel lenght, regardless of the kind of ammunition used: this allows emergency use of enemy captured ammo, old loads, or otherwise less-than-reliable sourced ammunition, and enhances the sound signature reduction performance of any silencer or sound suppressor that the users may want to deploy with the rifle.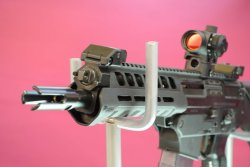 The SIG556xi system is based upon a common, machined stainless steel upper receiver, fitting either a 10-inch or a 16-inch barrel. Some components − like the polymer, carbon fiber, or machined aluminium railed handguards, or the polymer or carbon folding, fixed or telescopic stocks − can be replaced to better suit the individual user's tastes; the interchangeability of others, however, plays a key role in the modularity concept, allowing adaptation of the platform to the everchanging needs of modern battlefields.

Barrel, bolt group and magazine swapping is all it takes to convert the SIG556xi from the native 5.56x45mm NATO chambering to the popular .300 AAC "Blackout", a relatively new caliber conceived in the United States to provide 7.62x39mm stopping power at around 300 metres while achieving maximum noise signature reduction when used in conjunction with silencers.
Swapping of said parts and the replacement of the factory lower receiver with a new one, featuring a different magazine well, will also allow the conversion of the SIG556xi to the 7.62x39mm caliber itself, and will enable the users to employ AK/AKM type magazines of any provenience, make, and material. This will make it easier for Tier-1 units deployed in current theatres of operations to meet their mission demands even when resorting to the use of enemy captured ammunition, giving professionals an edge in all situations.

This video has been hidden because of an external service (YouTube) that could potentially collect personal data.Allow video services for the duration of the visitAllow video servicesStop allowing video services