The Equinox Elite Series is the latest limited-run release from SIG Custom Works, combining SIG Sauer's most popular two-tone Equinox treatment finish with its most popular Classic Line pistols. 

The SIG Custom Works Equinox Elite treatment for the P220, P226, and P229 pistols features a black anodized alloy frame with black G10 grips, a two-tone Equinox polished slide with X-RAY 3 Day/Night Sights, and nickel-plated controls.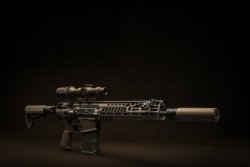 The MCX-SPEAR was developed with direct input from U.S. warfighters to provide more power, distance, and accuracy to replace current M4 rifle platform. Now, a civilian legal, first production run MCX-SPEAR is being offered to the commercial market in a configuration that is a near match to SIG's NGSW-R submission.  
The MCX-SPEAR is an adaptable multi-caliber rifle (277 SIG FURY, 6.5 Creedmoor, 7.62 NATO, with barrel change) featuring rear and side non-reciprocating charging handles, 6-position folding stock, ambidextrous fire control, bolt-catch, and mag release, 2-stage match trigger, 2-position adjustable gas piston, a lightened free-float M-LOK handguard, and a full-length picatinny rail. 
The 277 SIG FURY ammunition is the commercial variant of the 6.8x51mm military round available in the hybrid case technology submitted to the U.S. Army NGSW program. Also available is a 277 SIG FURY FMJ traditional cartridge round.