After a very long absence and well-known classics such as the SSG 3000 from 1992, SIG Sauer USA re-entered the market segment of precision bolt-action rifles two years ago and immediately put its money where its mouth is. The SIG Sauer Cross, which is now available in Europe for the first time, features a bolt with three locking lugs and a 60-degree bolt throw. According to the concept, the rifle is intended to be a "crossover" model between a light hunting rifle and an accurate precision rifle. The model chambered in SIG Sauer's young, in-house .277 Fury caliber, as well as 6.5 Creemoor and .308 Winchester, is built on a one-piece aluminum receiver and features a stock that folds at the touch of a button and is versatilely quick-adjustable without tools. Perched atop the one-piece light receiver is a long, interchangeable Picatinny scope rail with 0 MOA or 20 MOA pre-tilt for long range shooting. The stainless steel barrel with 18" length and 1-8" twist in 6.5 Creedmoor or 16" length and 1-10" (.308 Win.) or 1-8.5" twist (.277 Fury) is shrouded by a free-floating M-LOK aluminum handguard. The rifle features a two-stage weight-adjustable trigger in a combination with an ambidextrous safety. The SIG Sauer Cross is fed by AICS-style box magazines. Weighing around 3.0 kg when empty without additional equipment, the Cross in 6.5 Creedmoor reaches a length of around 90 cm when unfolded and 68 cm when folded. The 2.9 kg versions in .308 Win/.277 Fury dimensions are 93 cm/66.5 cm. So much for the basic features and technical key data of the Cross series in a quick run-through.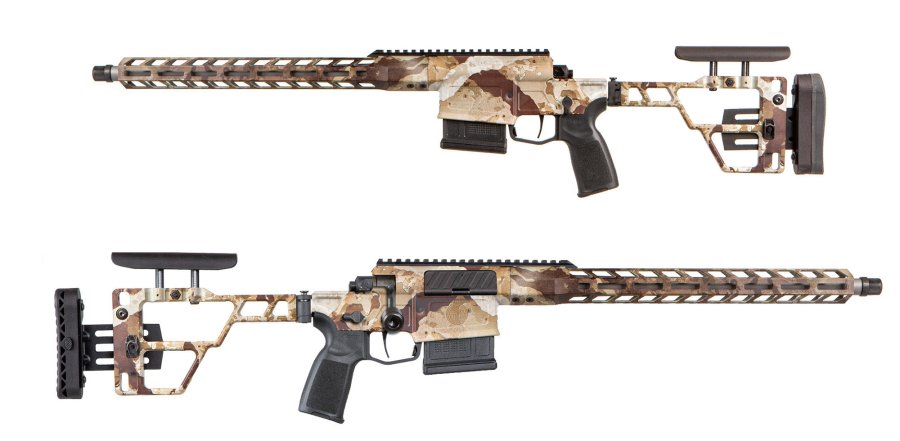 The SIG Sauer Cross bolt-action rifle – technical details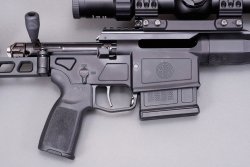 A weight of less than 3 kg for this type of rifle is quite an achievement! To achieve this in the basic design, SIG Sauer USA leaves well-trodden paths. This is because the rifle is not based on a conventional receiver. Despite the similarity in appearance to the AR, the bolt-action rifle in fact does not have a two-part receiver with a separate lower and upper connected by pins. Instead, the heart of the Cross bolt-action rifle is a one-piece "Short Action" made of forged, surface-finished aluminum, to which all other essential components (barrel, stock, handguard) are connected. Thanks to to the cylinder bolt with exchangeable bolt head, which locks in a recess of the barrel extension, as well as the existing barrel exchange option, the Cross rifle is basically "multi-caliber capable". The three-lug bolt and 60-degree throw has a short travel, which enables fast follow-up shots.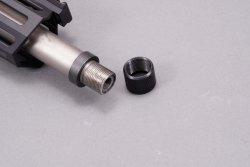 The cold-hammered 16"/406 mm long "Medium Contour" stainless steel barrel with classic AR 5R rifling has a glass-bead blasted matte finish as well as a 5/8x24 UNEF muzzle thread with cover cap. It is shrouded by a free-floating, slim and very easy-to-handle M-LOK handguard. The M-LOK interfaces allow corresponding mounting rails to be attached at 0°, 90°, 180° and 270°, just as desired. Since there is no typical MIL-STD-1913 rail on the top of the handguard, it is possible to mount a telescopic sight at a practical position.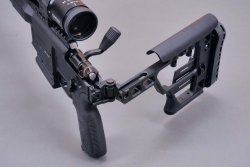 Solid quick adjustment mechanisms: despite its weight-saving, minimalist design, the folding, skeletonized stock offers all the adjustment mechanisms a shooter could desire. They are also quick to operate without tools in the aiming position. After flipping an operating lever, the spring-loaded comb, which is guided on columns, rises and can be quickly fixed in the desired height. After loosening a screw, length of pull can be adjusted, and the butt plate adjustment in height is also feasible here. In the subsequent practical test, the quick-adjustment mechanisms proved to be absolutely bulletproof.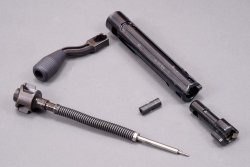 Smart bolt: the bolt assembly, which is also weight-optimized, can be disassembled into its individual components in a matter of seconds. Place it on a flat surface with the breech face first, and press in slightly the replaceable bolt head. 
The bolt handle can then be pushed into its disassembly position and the firing pin can be removed. The bolt head can be removed after pushing the retaining pin out to the side. In a few seconds, all bolt components are in hand. With short bolt travel, the action can be quickly cocked and decocked with just one movement. 
Here, not a milled surface but a roller moves in the control cam, which results in the frictional resistance. The result is very smooth cycling.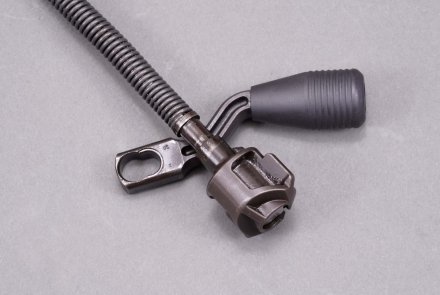 Sophisticated trigger: trigger pull weight can be adjusted between 1,130 to 1,800 grams. This is is combined with a two-position safety lever on both sides in the typical AR style. 
However, we measured a trigger pull weight of just 910 grams, a value that was well below the manufacturer's specifications. Perhaps the trigger was revised again after the initial teething troubles and the recall. Be that as it may, the characteristics of the trigger were very pleasing to the tester. After take up, there was still a short, defined  travel that could be felt very well. If you touched the trigger tongue at the lowest point, so that the trigger finger was in contact with the inside of the trigger guard, then you could already overcome about 850 grams. This left only about 60 grams for the actual shot release. 

This trigger action could be reproduced at any time. You can hardly make it easier for the shooter here to punch nice groups into the target.
Practical test: on the shooting range with the SIG Sauer Cross in .308 Winchester – with groupings from 9 loads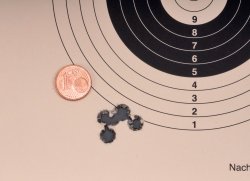 We fitted a short M-LOK mounting rail on the top of the handguard to hang the SIG Sauer Cross in our trusty Fortmeier bipod. We also attached a Kahles K525i DLR 5-25x56 scope using a Spuhr ISMS mount. Thus prepared, it didn't take long for us to produce good groups after sighting in. Even with the affordable GECO Sport 147-grain hollow-point factory ammunition, we achieved a 12-mm (0.47") group. However, we managed the best shot group, and at 9 mm (0.35") below the magic 10-mm mark, with Czech Sellier & Bellot Match factory ammunition with the 168-grain Sierra MatchKing HPBT bullet. Third place went to the RWS 168-grain Target Elite Plus with an 18 mm (0.70")  grouping. Power output is of course comparatively low with a barrel that is only 16"/406 mm long, so bullet velocities were around 70 to 90 m/s slower than with bolt-action rifles with more common barrel lengths such as 20"/508 mm. Apart from this, the shooting performance was at a high level, with four out of nine loads achieving groups below the 20 mm limit.

SIG Sauer Cross specs and price

| | |
| --- | --- |
| Model:  | SIG Sauer Cross in .308 Winchesterr |
| Action:  | Bolt-action with three locking lugs locking into the barrel extension |
| Barrel:  | 16"/406 mm long, cold hammered "Medium Contour" , made of stainless steel with 1-10" twist and 5/8 x24 UNEF muzzle thread |
| Stock:  | Folding, fully adjustable aluminum stock, free-standing AR pistol grip, free-floating M-LOK light alloy handguard |
| Magazine:  | Mapul PMAG box magazine with a capacity of 5 rounds |
| Trigger:  | Two-stage trigger, measured trigger pull weight: 910 g |
| Safety: | AR-style two-position safety on both sides, acting on trigger |
| Overall Length:  | 665 mm folded, 927 mm unfolded |
| Weight: | 2,940 g |
| Price:  | 2,489 euro (RRP in Germany) |
SIG Sauer Cross in .308 Winchester: wrap-up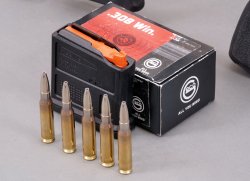 In our opinion, SIG Sauer USA has definitely succeeded in the "crossover" balancing act between a super-light, easy-to-handle hunting rifle and a modern, sporting all-metal precision bolt-action rifle with corresponding shooting performance. Especially in the dynamic PRS long-range shooting discipline with its fast position and aiming changes, the Cross could make full use of its flyweight advantages, because it is far less physically demanding. 
Of course, this is also true when transporting it to hunting areas on rough or even mountainous terrain. For further shooting, the Cross in 6.5 Creedmoor with 18" barrel would then certainly be the better choice in our opinion. 
The price of this exceptional bolt-action rifle of 2,489 euros is completely adequate.

---
Text: Stefan Perey / Michael Fischer; Photos: Dieter Licht / Michael Fischer

Further information about the SIG Sauer Cross can be found on the manufacturer's website.

From SIG Sauer USA, another model variant will soon be available: the SIG Sauer Cross-PRS
Here comes the original wording of the press release:

"This is the first expansion of our popular CROSS rifle and the first rifle we've built specifically for long range, precision rifle competition," said Tom Taylor, Chief Marketing Officer and Executive Vice President Commercial Sales for SIG Sauer, Inc. "The CROSS-PRS is purpose built and feature rich. The heavy structured steel design delivers weight evenly for a balanced feel while reducing recoil to get you back on target faster. Combined with the extreme accuracy of the heavy contour 5R rifled barrel, and folding adjustable steel stock for easy movement, the CROSS-PRS delivers an extremely capable long-range shooting experience that scores big on the range, right out of the box."
In detail, the SIG Sauer Cross-PRS features a precision free-floating 24" barrel and a two-piece free floating M-LOK handguard that comes equipped with a steel Arca rail for quick and easy attachment of bipods in a Cerakote Elite Concrete finish.  
The new model is expected to be available soon in the popular 6.5 Creedmoor and .308 Win. long range calibers. More info can be found on the SIG Sauer website and in the video below.
This video has been hidden because of an external service (YouTube) that could potentially collect personal data.Allow video services for the duration of the visitAllow video servicesStop allowing video services