Ruger strengthens its position in the sporting rifles market, and this time it does so by introducing a promising line of AR-15-style semiautomatic models based on the new Small-Frame Autoloading Rifle action, or SFAR for short.
The SFAR action combines the ballistic advantages of the .308 Winchester with the compact size of a traditional modern sporting rifle in .5.56/.223 Remington. The more compact of the two initially available configurations features a 16.10-inch (40.8 cm) barrel and weighs only 6.8 lb/3 kg unloaded. Thanks to the use of superior materials and technologies, the SFAR action is bigger and stronger, while remaining thinner and lighter than that of a .308-caliber gun.


Utilizing many mil-spec compatible components and fitted with the Ruger Elite 452 trigger, the Ruger SFAR's construction and operation are the same as those so familiar to the millions of Americans who have already fired AR-15-style semiautomatic rifles. The upper and lower receivers are both CNC-machined from 7075-T6 aluminum forgings and feature an oversized magazine well, forward assist, dust cover, and brass deflector. 
Barrels are cold hammer-forged with 5R right-hand rifling with 1:10" twist. They also have 5/8"-24 muzzle threads and a black nitride surface finish to ensure accuracy, durability and ease of cleaning. The bolt and barrel extension, CNC machined from high-strength super alloy steel, feature tapered lugs that strengthen the breech by adding material in key areas.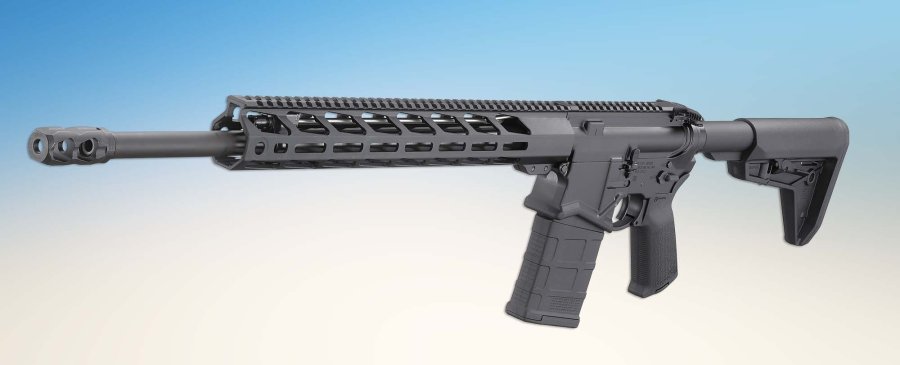 Ruger SFAR, two barrel lengths available

"Over the course of this rifle's development, we fired hundreds of thousands of rounds to assess and enhance real-world performance and wear," noted Ben Parker, Lead Design Engineer for SFAR. "The proprietary design and material selection of the bolt and barrel extension help deliver a rugged, reliable, and safe rifle that we are proud to call a Ruger."
SFAR rifles are fitted with a four-position regulated gas block to achieve ideal operation with the wide range of ammunition available on the market today, whether the rifle is used dirty or clean, suppressed or unsuppressed. Regulator adjustment is very easy – a wrench is included. Finally, the two-port Boomer muzzle brake makes the SFAR rifle exceptionally smooth when shooting.
The handguard has Magpul M-LOK accessory attachment slots at the 3:00, 6:00 and 9:00 positions and sockets for QD sling swivels on both sides.
Model 5610 has a 16.1" (408 mm) barrel, a mid-length gas system and a 15" Lite free-float handguard whose top rail has been docked in the middle to improve grip and reduce weight. Model 5611 has a 20" (50.8 cm) barrel, a full-length gas system, and a 15" handguard with a full Picatinny top rail. Both models feature a Magpul MOE SL stock, MOE grip and come with a 20-round Magpul PMAG magazine.
The price in the U.S. for the Ruger SFAR is $1,299 for both versions. In Europe it will probably cost a little more, depending on local taxes.

Ruger SFAR rifles specs and price

| | |
| --- | --- |
| Model: | SFAR 5610/5611 |
| Price (in the U.S.):  | $1,299 |
| Caliber: | .308 Winchester |
| Magazine Capacity:  | 20 rounds |
| Overall Length:  | 946/1046 mm with extended stock |
| Barrel Length:  | 408/508 mm |
| Twist Rate:   | 1:10"  |
| Sights:  | None |
| Weight:  | 3 kg approx |