Sturm, Ruger & Co., Inc. − one of America's best known and most dynamic and lively gunmakers − announced on Friday, July 17th the launch of a new bolt action long-range rifle on the U.S. market; dubbed the Ruger Precision Rifle, this is Ruger's first commercial attempt at a pure "sniper" rifle, offered as an alternative to long-range sport shooting enthusiasts and as a tactical instrument for local law enforcement agencies.
Faithful to the Company tradition, the Ruger Precision Rifle was built with the highest possible price-to-quality ration in mind as a goal: for a modest suggested retail price, this design offers features that most direct competitors from globally renowned brands can offer only at a much, much higher final price − so high, in fact, that they would be out of reach for the average shooter. Not so much for the Ruger Precision Rifle.

Available in three calibers − .308 Winchester/7,62x51mm, 6.5 Creedmoor and .243 Winchester − the Ruger Precision Rifle fits a medium contour (.75'' at the muzzle), cold-hammer forged 4140 chrome-moly steel barrel that's 20, 24 or 26 long depending from the chambering.
All Ruger's Precision Rifle barrels sport a five-grooves, right-handed rifling at minimum bore and groove dimensions, minimum headspace and centralized chamber, as well as a 5/8"-24 threaded muzzle, protected by a removable screw-on cap, allowing the use of muzzle brakes, flash hiders, or silencers (where legal). The design of the Ruger Precision Rifle allows any competent gunsmith to remove and replace the barrel using AR15-style wrenches and headspace gauges.
Ruger Precision Rifle also sports the Company's own, Precision MSR stock with quick-detach sling attachment points, a bottom MIL-STD-1913 Picatinny rail and soft rubber buttpad, that comes with a left-folding hinge that's attached to an AR style buffer tube and accepts any AR-style stock. The factory stock is adjustable for lenght of pull and comb height; the in-line recoil path manages recoil directly from the rear of the receiver to the buttstock, not through a traditional bedding system, providing maximum accuracy potential.

Both receivers of Ruger Precision Rifle are machine-manufactured: the lower halve is precision machined from aerospace-grade, 7075-T6 aluminum forging and is Type III hard coat anodized for maximum durability; the upper receiver is precision CNC-machined from pre-hardened 4140 chrome-moly steel to minimize distortion.

The same material is used in the manufacture of the one-piece bolt, featuring three locking lugs, dual cocking cams, a 70° throw and a smooth-running, full diameter body. The bolt handle is oversized for positive manipulation, and is installed on 5/16''-24 threads for easy replacement. A bolt disassembly tool is issued with each Ruger Precision Rifle and stored in the bolt shroud for easy striker channel cleaning.

All Ruger Precision Rifles also come with a 20 MOA top MIL-STD-1913 Picatinny rail − secured with four, #8-40 screws for increased long-range elevation capabilities − and with a Samson Evolution Keymod free-float handguard that can be either equipped with additional rail portions for accessories or replaced with any AR-compatible handguard.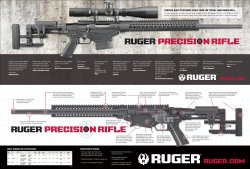 Ruger Precision Rifle comes with an extended trigger-reach AR-style grip and a 45˚ reversible safety selector; it can be configured with any AR-style grip and selector, according to the shooter's needs and preferences.
Ruger's Precision Rifle feeds through detachable magazines; two MagPul P-MAG 10-rounds magazines are issued with every Ruger Precision Rifle, but the patent-pending Multi-Magazine Interface functions interchangeably with M110, SR25, DPMS and Magpul®-style magazines, Accuracy International AICS magazines, and even with some M14/M1A magazines. The magazine well front is contoured for a positive grip when bracing against shooting supports.

Another feature of the Ruger Precision Rifle is the Ruger Marksman Adjustable trigger, that's externally adjustable within a pull weight range going from 2.25 lbs (about one kilogram) to to 5 lbs (around 2,27 kilograms). The adjustment wrench is the same one stored in the bolt shroud, that can also be used to adjust the elevation of the top Picatinny handle or to disassemble the bolt.
The Ruger Precision Rifle is currently being launched on the U.S. market at a manufacturer's suggested retail price of $1,399.00, just a little bit under €1,300.00 at the current nominal change: that's definitely a bargain price for a gun that has been field-tested in out-of-the-box conditions and found capable to hit balloon-sized targets 1600 yards away (about 1,5 kilometers) and − according to the well-known U.S.-based American Rifleman magazine − to provide 0.76" (1,93cm) five-shots group at 100 yards (91,44 metres).

All summed up, those shooters looking for a budget-priced, sub-MOA capable shooting machine don't need to look any further. The only drawback (for now) is that the Ruger Precision Rifle is not yet exported outside of the United States, meaning that the wait of the international shooters community is all but over − indeed, it's just started.