Article also available in other languages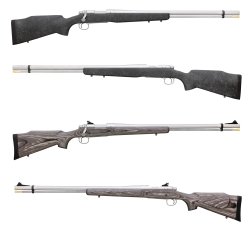 Remington Arms Company, LLC.
The increasing pool of hunters and sportsmen that add modern muzzle-loading rifles (a.k.a. the so-called "In-Line" rifles) to their gun racks is usually composed of shooters that ask a lot from the guns they get.
Not only they want their muzzleloaders to feature technical innovations that'd make their hunting and shooting experiences more satisfactory and exciting, but they also ask for cutting-edge tools that, even when based on an "outdated" working principle, would provide a level of performance, accuracy, range, and stopping power that'd get as close as possible to the treshold of modern centerfire rifles.
Now, the Remington Arms Company found an interesting, revolutionary way to answer such demanding requirements. The "most technologically advanced in-line muzzleloader on the market today" was first showcased at the 2014 NRA Annual Meetings and Exhibits, held in April at the Indiana Convention Center in Indianapolis (IN), and is finally available for purchase by US shooters, with global distribution started to kick off soon.

Remington Arms Company, LLC.
The rifle has been aptly dubbed Remington 700 Ultimate Muzzleloader, and if the name − and the pictures you're looking at right now − remind you of the world's most famous bolt-action rifle, well... your impression is 100% correct.
The Remington 700 Ultimate Muzzleloader rifle has been conceived as an original in-line muzzleloader that'd borrow as many features as possible from Remington's own, legendary Model 700 bolt-action centerfire rifle to allow easier and quicker manufacture, to be more familiar for shooters to get acquainted with, and to allow the implementation of a certain number of innovative features that make it unique.
Just like any other In-Line muzzleloader, the Remington 700 Ultimate Muzzleloader rifle is made ready for fire by loading the propellant first, then the bullet − in this case, a .50-caliber Barnes Spit-Fire T-EZ 250-grains saboted ball − from the muzzle, then by inserting a priming cap in the breech.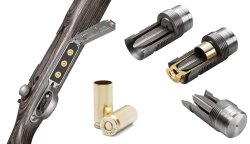 Remington Arms Company, LLC.
The Remington 700 Ultimate Muzzleloader, however, makes it unnecessary to fondle with a number of small 209-type shotshell primers, which have to be carefully hand-picked and inserted in their seat prior to firing.
Remington's new In-Line muzzleloader sports the same rotating bolt as the Model 700 rifle, which allows a special pre-loaded brass, featuring a Remington 9 ½ large magnum rifle primer, to be  push-fed into the breech plug much like a centerfire rifle round would be chambered in a single-shot bolt-action.

The new system, dubbed the AMP ("Accelerated Muzzleloader Performance") allows easier and quicker loading, and also creates a gas seal in the flash hole of the primer. The result allows the shooter to load up to 200 grains of powder for increased range, energy, and on-game performance. Particularly, using 200 grains of convenient Hodgdon Triple Seven pellets, the Remington 700 Ultimate Muzzleloader rifle can provide muzzle energy levels that will reach well over 2400 feet per second (730 m/s approx.), allowing the ball to remain lethal within 300 yards (over 270 metres) and constantly offering 1" groups at 100 yards (2,5cm. groups at around 91 metres).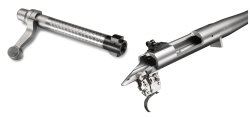 Remington Arms Company, LLC.
Remington's 700 Ultimate Muzzleloader rifle is available with a synthetic Bell & Carlson stock or with a laminated wood stock, both featuring a storage compartment for pre-loaded brass under the receiver; other interesting features include a 609mm/24" fluted stainless steel barrel, an externally-adjustable Remington X-Mark Pro accuracy trigger that may be set in the 2.5/5-pounds (1,1/2,2Kg.) weight range, and the possibility to mount optical sights. Each Remington 700 Ultimate Muzzleloader rifle is issued with 24 balls and 24 primeable cases.
The manufacturer's suggested retail price for the Remington 700 Ultimate Muzzleloader rifle has been set to 1295.00US$ (955,70€) for the United States; prospective non-US buyers should inquire about availability and pricing with their local retailers or with their national authorized importers and distributors of Remington products.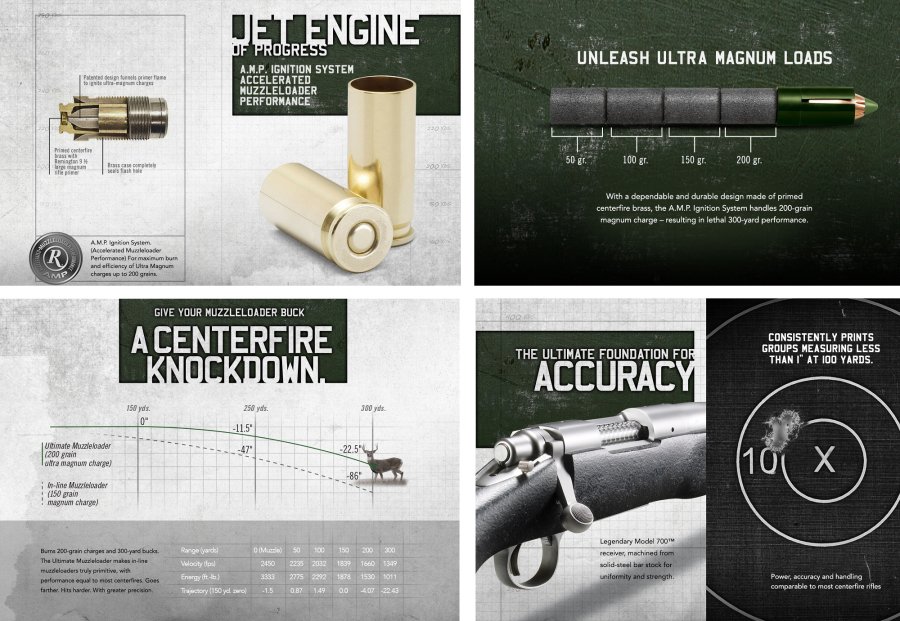 Remington Arms Company, LLC.