Maxim Defense Industries is a US company known for its high-end CCS (Combat Carbine Stocks) and CQB stocks designed for AR-15 and SIG MCX/MPX series rifles and carbines, besides sophisticated accessories and gun parts such as buffer systems, bolt carriers and other components. Until now at least: learning from the experience gained, they decided to develop their own proprietary platform for an innovative Personal Defense Weapon. Named PDX, it's described by the manufacturer as "the ultimate choice for when concealment and personal defense is non-negotiable."
Maxim Defense PDX: for specialists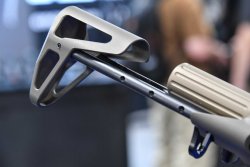 The new Maxim Defense PDX is offered both in 5.56x45mm NATO and 7.62x39mm calibers. It was born from the SOCOM PDW solicitation and is proudly designed "to handle the fierce demands of the Tier 1 community". 
Being just 18.75 in / 476 mm in overall length with a 5.5 in / 140 mm barrel, the PDX can be actually defined as a sub-compact platform. At its heart is Maxim Defense's newly developed and patent-pending Maxim SCW stock system. This system cuts down the length of the stock to 4 in / 100 mm, while the integrated BCG with interchangeable buffer weights should guarantee maximum performance and versatility without sacrificing form and functionality, according to the manufacturer. Controls are typically AR-15 style.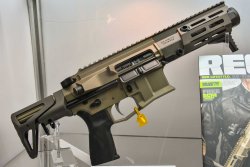 To further reduce recoil and decrease  flash signature, the PDX is equipped with the newly-invented Maxim HATEBRAKE muzzle booster. Another Maxim Defenses's patent-pending device, the HATEBRAKE muzzle booster also pushes gasses and concussion wave downrange away from the operator, improving overall performance in short barrel pistols and rifles. Trigger is an ALG Combat Trigger (ACT). The latter is very similar to a standard mil-spec trigger - pull weight is not lower than the M4/M16 minimum weight specification of 5.5lbs – but it is much sharper and have all grittiness removed.
Available in "Black" or "Arid" finish, pre-orders for the PDX will start January 21st and shipping will begin in April 2019. Manufacturer's recommended sale price is 2299 USD. There is no much more info at present and we look forward to testing  this aggressive-looking and very compact PDW in the flesh!