Do you want to try something new? What about a rifle without a trigger? Earlier this year we reported to you about a US-based company named Iron Horse Firearms ant its innovative "thumb operated receiver" (TOR). In brief, it is a system where you use you thumb instead of you index finger to fire an AR15-type rifle. Now, Iron Horse is offering it's Basic B entry model at an interesting price, 850 USD.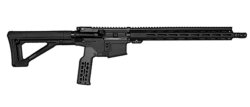 "The Basic B is our minimalist, yet well-appointed rifle that makes it easy to get behind the TOR and send rounds downrange," in the manufacturer's words. The new "Basic Bravo" rifle features an unbranded AR's 223 Wylde chamber – that allows to safely fire either .223 Remington or 5.56x45 mm NATO ammo –  M16 Nitride BSG, Mil-spec bird cage A2 flash hider, 15" M-Lok free-float handguard, M4 feed ramps, and mid-length gas system with a 16"/ 406 mm barrel (1/7 twist).  It also sports  a low-weight trigger and a weight saving skeletonized aluminum grip. Safety controls are ambidextrous.
The TOR lower is completed with Magpul's MOE fixed stock and carbine length buffer tube, spring and buffer kit. Iron Horse Basic B also comes with a 60-Day Money-Back Guarantee and lifetime warranty.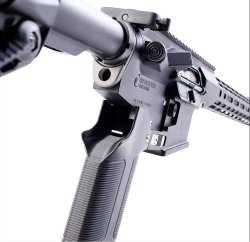 But what are the advantages of the TOR system? Let's let the manufacture explain that: "The TOR has several advantages over traditional trigger implementations, allowing shooters maximum control by employing the strongest digit on the hand. Additionally force applied to the trigger is inline with the shooter's center of aim, opposed to traditional left or light error common with the traditional trigger pull."
Among the system pros, a shortened learners curve for new shooters and increased dexterity in cold weather conditions. Moreover, the trigger guard completely encases the trigger, which eliminates the chance of snagging the trigger in brush or dense vegetation. The TOR is also a nice alternative to standard trigger design for disabled shooters.
All in all, the affordable Basic B model could be an opportunity to try an AR-15 platform with an unusual trigger system.