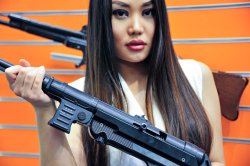 The GSG - German Sport Guns guns brings its long-awaited centerfire, 9x19mm caliber semi-automatic replica of the legendary MP40 sub-machinegun back to the IWA show in Nuremberg – only this time, this was a definitive version, ready for mass production.
The German Sport Guns MP40 semi-automatic 9mm carbine is a blowback-operated, closed-bolt design with a semi-auto only single-action trigger pack and overall redesigned working parts that make it impossible to convert to full-auto; all the rest remains unchanged. The double-stack magazine holds anywhere between five and thirty-two rounds of 9x19mm ammunition, depending from local laws and regulations.
The baseline model of the GSG MP40 will be the most faithful to the original, with its underfolding stock and a 251mm-long barrel; a pistol version, conceived mostly for the U.S. market, will come with the original 251mm barrel but without an underfolding stock; a carbine variant, once again conceived for the U.S., will feature the underfolding stock and a 16-inch barrel, whose front portion sports a shroud that mimics the looks of a silencer.
GSG also announced that its MP40 will also be offered in a 9mm P.A.K. blank firing only variant; while the live-firing model will definitely become a must-have for the discerning sport shooter and collector, the blank firer is meant to address the requests of re-enactment groups and movie production companies.