The FoldAR AR-style design brings the "foldable" concept to the next level: when stowed the overall length of the fully-assembled rifle is in fact equal to the length of its barrel, cutting the upper receiver assembly overall length by 8 inches / 203 mm - the ideal for a discreet carry or to store the rifle in a smaller case.  And the rifle can be deployed in fire-ready in just five seconds. All this thanks to a hinged proprietary "folding barrel" that can be folded along the receiver.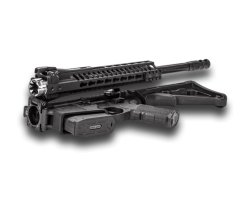 Founded in march 2018, FoldAR builds AR platforms that maintain as much standardization with "mil-spec" components as possible and are compatible with most of standardized AR-15 parts.
The only proprietary operational parts are the upper receiver, forearm, barrel extension and gas tube. All parts are US made, anyway.
FoldAR, an innovative design
What are the advantages of FoldAR system compared to more traditional compact or takedown AR solutions? As explained on their website, awkward takedown/assembly process is unreliable and takes time, while with the FoldAR design the rifle is always together and fully assembled even in the folded position. The manufacturer also claims that FoldAR platform holds zero even after repeated deployment: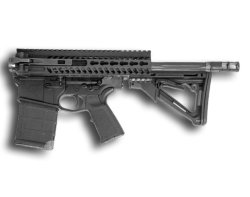 "Rigorous in-house and independent third-party testing during the past two years and numerous field rifles show a consistent return to zero when the rifle has folded and deployed hundreds of times and over the course of different temperatures and operating conditions. We have never had any measurable POI shift over thousands of rounds".

As for the weight, FoldAR patented technology adds less than 4 ounces (some 113 g) over a standard AR-15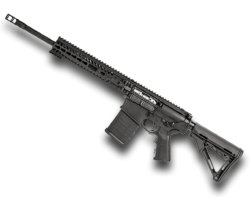 At present, there's no info about the product availability date or prices. 
The company also says that an AR-10 version (short action) of the FoldAR platform will be released in late 2019. It will initially be chambered in .308 Win and 6.5 Creed. 
FoldAR intends to develop long-action versions (338 Lapua Magnum, 300 Win Mag) in the future as well.