We don't know if it's really "the ultimate platform for the 10mm", but CMMG is probably right when claiming that its "10mm Banshee is the first AR capable of reliably running the wide assortment of 10mm ammunition on the market". 
CMMG's Banshee pistol/short barelled rifle family was already available in a dozen different calibers, but adding Jeff Cooper's favorite cartridge is an interesting move: based on a radial delayed blowback operating system, the Banshee is in fact the right platform to best manage the powerful 10mm. "From the moment we first introduced the Radial Delayed Blowback operating system back in 2017, our customers have repeatedly requested that we use this innovative system to chamber 10mm," said Chris Reinkemeyer, CEO/CFO at CMMG. "We are proud to say that we have now answered the call. Not only do our 10mm offerings work with the wide range of ammunition available today, they also tame the felt recoil by a significant margin." 
CMMG 10mm Banshee, reduced recoil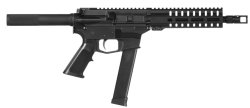 CMMG's innovative radial delayed blowback operating system incorporates a mechanical delay that forces the bolt to rotate, momentarily slowing the bolt carrier group, which allows chamber pressures to fall before cycling. This mechanical delay allows for reliable function with a wide variety of ammunition and removes the need for a heavy bolt, buffer and spring typically required in direct blowback systems. Radial delayed blowback significantly cuts felt recoil and directs more gas down the barrel. To further reduce recoil, each 10mm Banshee comes with an H3 buffer and a 3.5oz tuning weight pre-installed in the carrier. Trigger is single stage Mil-Spec Style. 
CMMG also developed a unique Bolt Catch Linkage System in order to allow the Last-Round Bolt Hold Open feature to be compatible with the 10mm and other pistol cartridges: the system, which will be familiar to AR users, is field-tested to lock the bolt back after the last round of each magazine.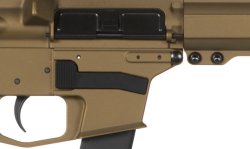 The 10mm Banshee will be offered with an 8-inch / 203 mm barrel, starting at 5 pounds 9 ounces / 2523 g  (unloaded) and an overall length of just 24.3 inches / 617 mm. Where allowed, the gun ships with one 30-round factory SGM TACTICAL 10mm magazine (GLOCK compatible). Handguard is M-LOK compatible.
The 10mm Banshee is available in Short Barreled Rifle (SBR) and AR pistol configurations, with a variety of different options and furniture to choose from: the Banshee 100 (with pistol receiver extension), Banshee 200 (with standard RipBrace with 6 position enhanced receiver extension) and Banshee 300 (with Micro/CQB RipBrace with 6 position enhanced receiver extension) series. Suggested prices on the US market range from 1299.95 USD for the "pistol" 100 Series, up to 1349.95 USD for the "short barelled rifle" 200 Series and 1649.95 USD for the 300 Series.