If you argue that a semi-automatic belt-fed rifle is not the most useful or even the most practical firearm in the universe, you are probably right. But let's face it – if you you are not fascinated by the idea of owning and firing a fully legal FN M249 you're probably not really fond of guns either. And it will be of little interest for you to know that after a short manufacturing hiatus, FN America, LLC has announced that the FN M249S semi-automatic belt-fed rifle is back in production and now available to order in both the Paratrooper, or PARA, and Standard configuration.
"Since it was introduced, the FN M249S has outpaced our expectations in terms of customer interest and sales," remarked Chris Cole, Vice President of Sales and Marketing for FN America, LLC. "We are extremely excited to make these available to our customers and loyal brand fans again. We are expecting new inventory to be readily available at retailers by the spring."
FN M249S, magazine or belt-fed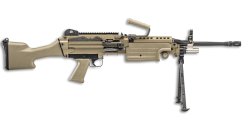 M249 SAW light machine gun was originally developed by FN Herstal as the FN MINIMI and adopted by the U.S. military in 1988. The FN M249S semi-automatic belt-fed is part of the FN Military Collector series which features semi-automatic, civilian-ready versions of FN  military rifles. The series includes the  FN Military Collector M4 and M16, semi-automatic versions of the military's M4A1 and M16A4.. But the highlight here is the FN M249S, introduced in 2015 "to bring to market classic interpretations of the firearms that FN designed and sold to the U.S. military."
Featuring an 18.5-inch cold hammer-forged and chrome-lined barrel made from FN's proprietary steel with quick-change capabilities, an ergonomic polymer buttstock with hydraulic recoil buffer, crossbolt safety and fed from a disintegrating M27 linked ammunition belt, the closed-bolt FN M249S Standard is the classic FN M249 SAW configuration; the Paratrooper model, or PARA for short, is the compact configuration of the M249 SAW and features a shortened 16.5-inch barrel along with a telescoping and collapsing buttstock. Primary sights are graduated to 1000 meters with MIL-STD 1913 rail system for optics. 
Both the M249S and the M249S PARA are available with a black or FDE finish. Caliber is 5.56x45mm NATO, and as said the gun will accept linked belt ammunition. But if you want to make things a bit more conventional, it accepts standard magazines too. In any case, the FN M249S is the closest you can get to the real thing – actually, it is the real thing, just semi-auto. Only downside, as is to be expected, the prices: to become the proud owner of an M249S you will have to pony up $9,999 for the Standard model and $10,499 for the PARA. Cheer up: at least there is no price difference between the black and FDE finishes.