The BRK/Brocock Ghost PCP (pre-compressed pneumatic) air rifle incorporates the latest PCP technology and is built around a titanium-colored chassis to maximize rigidity and accuracy. The rifle features a "bullpup" configuration, which means that the action is located behind the trigger. This allows the overall length of the gun to be reduced while still using a standard length barrel. The BRK Ghost rifle is available in three models and in 4.5 mm, 5.5 mm, 6.35 mm, 7.65 mm. (i.e., 177, .22, .25, and .30), with the full-power version offering up to 95 ft/lbs, equal to 128 joules. In addition, thanks to a quick and easily interchangeable barrel system, the BRK Ghost caliber can be changed a matter of minutes (where allowed by local laws).
BRK/Brocock Ghost: "Made in England" high power and versatility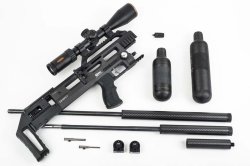 F-STOP PHOTOGRAPHY +44 7736 339, © WORLD COPYRIGHT: NIGEL E ALLEN 2022
The BRK/Brockock Ghost rifle in the "High Power" version has a barrel as long as 23 inches (584 mm) with a carbon fiber shroud and a 480 cc carbon air bottle; the "Plus" version, on the other hand, features a 17" (431 mm) barrel, while the "Carbine" version combines the 17" barrel with a small 300 cc air bottle. Overall length and weight of the three versions are 842 mm/3.4 kg, 722 mm/3.2 kg and 633 mm/3.1 kg, respectively.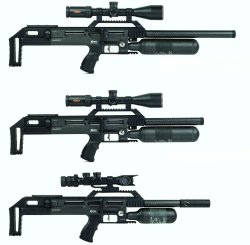 All three rifles are optimized for hunting in any environment thanks to the power dial on the back of the action. This offers no less than 20 settings, providing multiple power levels at your fingertips. In addition, higher-power models have another dial, easy to operate with your fingers, to precisely adjust pressure, shown on a separate gauge.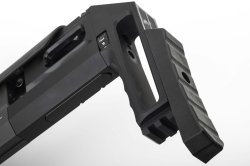 Nigel E Allen, © Nigel E Allen 2017
The proven "sidelever" action can be easily swapped from the right to the left side. The magazine can also be fed from either side of the action. To top it off, the cheekrest can also be moved from one side of the stock to the other, making the Ghost a fully ambidextrous rifle. The gun has no iron sights, but is fitted with a 20 MOA Picatinny rail that can be moved forward and backward along the top of the action, so it can be readily adjusted according to the chosen optics and exit pupil. Three additional rails allow other accessories such as a bipod to be mounted.
Other features of the Ghost include a match-type trigger that is fully adjustable and removable for easy maintenance, a muzzle equipped with  ½" UNF thread for an additional sound suppressor, and a cross-bolt manual safety. For now, the price of the BRK/Brocock Ghost has not yet been officially unveiled, but it is expected to start at around 2,000 euros. 
The BRK/Brocock Ghost PCP rifle in video:
This video has been hidden because of an external service (YouTube) that could potentially collect personal data.Allow video services for the duration of the visitAllow video servicesStop allowing video services
BRK/Brocock Ghost PCP rifle specs and price
| | |
| --- | --- |
| Manufacturer: | BRK/Brocock Airguns |
| Model: | Ghost |
| Calibers: | 4.5 mm, 5.5 mm, 6.35 mm, 7.65 mm |
| Power: | Adjustable to 20 settings  |
| Action: | PCP, 250 Bar with pressure regulator |
| Magazine Capacity: | 8 to 13 rounds depending on the caliber  |
| Barrel Lengths: | 17"/431 mm or 23"/584 mm |
| Overall Length: | 655 to 855 mm  |
| Weight: | 3.1 to 3.4 kg depending on the caliber |
| Stock: | Aluminum, thumbhole design |
| Trigger: | Adjustable |
| Sights: | None, optic rail |
| Price: | Starting from 2,000 euro approx. |