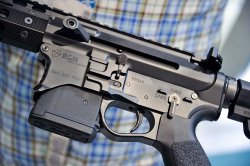 The public who attended the 2016 edition of the HIT Show in northern Italy was in for a surprise: the BCM Europearms company − best known for its high-end line of bolt-action hunting, sport shooting and tactical rifles − showcased its first AR-15 type rifle, dubbed the SPAR.

It ain't your standard AR-15 derivative: SPAR stands for "Straight-Pull AR-15 rifle" − and as its own name states, it is a pure straight-pull action variant of the classic Stoner design, conceived for civilian sales in those jurisdictions where standard semi-automatic centerfire modern sporting rifles are totally banned or barred from certain types of uses, such as hunting.

The upper and lower receivers of the BCM Europearms SPAR rifle are fully made in Italy and built in-house through last-generation CNC machineries and solid billet lightweight aluminum alloy parts; the only imported parts are the pistol grip, the magazine, the stock, and the MIL-STD-1913 "Picatinny" rails. Same goes for the bolt group and the barrels − available in all lenghts, from 10" to 22", and equipped with a factory-designed and built compensator. Not only does the BCM Europearms SPAR not feature a gas system, but the upper received is not machined to adapt to one − which means conversion to semi-automatic impossible, although the lower receiver of the SPAR remains compatible with any semi-automatic upper.
The BCM Europearms SPAR will first be available in .223 Remington only − feeding through STANAG 4179 magazines. Versions in calibers such as 9mm and .308 Winchester are also in the plans.