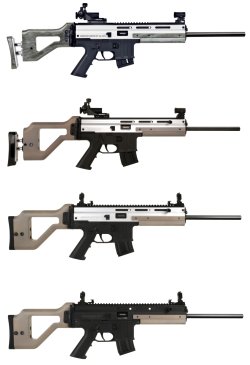 J.G. Anschütz GmbH & Co. KG
With a 155-years-long history, the German gun manufacturer J.G Anschütz & Co. Gmbh, headquartered in the city of Ulm, is definitely one of the first names that most of gun experts will think of when it comes to competition small-caliber guns and airguns for official or Olympic specialties. The Anschütz product line features today a surprisingly high number of specialized models for propedeutic shooting, training, competition, hunting and plinking. It's no wonder if most of Olympic, European and World champions, not to mention 97% of biathletes, use Anschütz guns: the German company lives a constant challenge with itself to come out with the perfect sporting gun, and all its components are completely engineered and realized in-house, from barrels down; assembly is followed by a total tuning phase, so that every Anschütz gun will always provide the best performances available on the market.
This said, the Anschütz name sounded unlikely to be associated to military-style firearms, even if rimfire... that is, until now. Big news for 2012 coming from Ulm concern the launch of a new Anschütz semi-automatic rimfire rifle that totally departs from whatever the German firm got us all used to during the years: we are talking about the Rx22 MSR .22-Long Rifle carbine.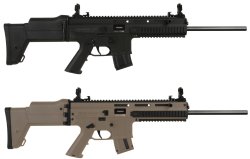 J.G. Anschütz GmbH & Co. KG
The Rx22 MSR project spawns from the idea of a rimfire target shooting/plinking carbine based upon the cosmetic appearance of the Belgian/US FN SCAR special operation forces-capable assault-battle rifle. To tell the truth, this wasn't an original Anschütz concept: back in 2009/2010 the Austrian gunsmith Wolfram Kriegleder, previously a Carl Walther GmbH employee and creator of the P-22 semi-automatic rimfire pistol, opened its own activity in the Austrian city of Ried im Innkreis, the ISSC HANDELS GmnH, and rapidly launched two semi-automatic rimfire guns for sporting purposes: the M22, a Glock-lookalike pistol with external hammer and manual safety, and the Mk22-MSR (standing for "Modern Sporting Rifle", an acknowledgement to the great commercial popularity of military-style semi-automatic guns worldwide); this last model was a SCAR-inspired semi-automatic carbine that was introduced, with a lot of hype, at the 2010 SHOT Show. The Mk22-MSR is still in production and on sale worldwide in several variants, and is enjoying a good commercial success. Yet, it wasn't enough: the ISSC HANDELS and Anschütz companies announced in 2011 that an agreement had been reached to start the joint development phase of a specialized variant of this platform for high-end competition shooting, with the collaboration of another German company, the GSG - German Sport Guns GmbH, already known for its rimfire versions of the 1911-A1 pistol and of the HK MP5 and Kalashnikov AK-47 assault weapons. As most of the demanded features and capabilities were already in place, development proceeded smoothly and quickly, and the first samples of the new race gun, dubbed the Rx22 MSR, were first seen in 2011, albeit Anschütz started global distribution only this year.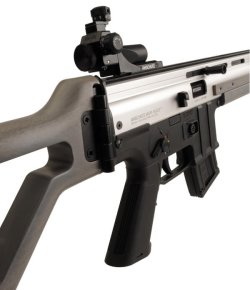 J.G. Anschütz GmbH & Co. KG
Anschütz' signs of distinction, inspired by years of experience in rimfire race guns manufacturing, are easy to spot at a quick glance on the Rx22 MSR, despite the highly unconventional design for a competition carbine. It would be wrong to consider the Rx22 MSR as a "Politically Correct" version of an otherwise pretty much aggressive military-style rimfire trainer in order to appease the regulators of the strictest gun-controlled markets out there; it rather represents the proof of how lungimirant Anschütz is for having immediately noticed the explosive innovative potential of the Mk22-MSR platform, and for having it evolved in a next-generation target shooting competition instrument, possibly setting the standards by which all future developments by any other manufacturer in the world will be judged.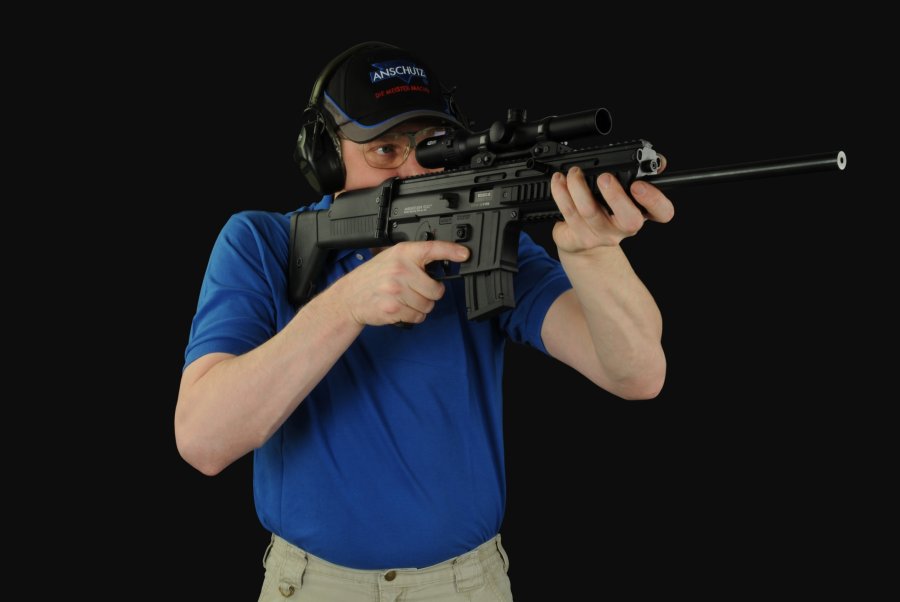 J.G. Anschütz GmbH & Co. KG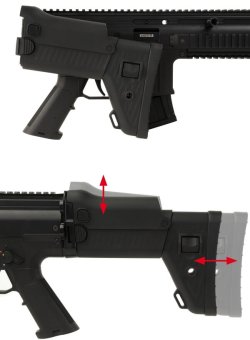 J.G. Anschütz GmbH & Co. KG
Three versions of the Rx22 MSR are now being marketed, two of which are basically the same weapon, the only difference between them being the finish. The Black Hawk (with a complete black finish) and the Desert Tan (finished in sand brown color) variants sport a side-folding polymer stock with adjustable cheek riser and extendable buttstock, plus a top MIL-STD-1913 Picatinny rail for optics − as the gun itself comes devoid of all and any iron sights − and a three-rail machined aluminum handguard. The Precision variant, available in bi-tone o all-black finish, features a side-folding stock available in either polished wood or in polymer/fake wood with a purely "race gun" design and equipped with an extendable buttplate only, plus a solid handguard in the same material. A top Picatinny rail is standard on this variant as well. All the three variants can be factory-modified with a non-folding stock for sales where said feature is forbidden by law.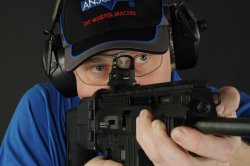 J.G. Anschütz GmbH & Co. KG
The Anschütz Rx22 MSR rifle is built around a machined aluminium upper receiver, hosting the bolt group, and a polymer lower, hosting the trigger group and the magazine well, plus an AR-15 type pistol grip. All controls on the Anschütz Rx22 MSR are fully ambidextrous; namely the magazine release button and the fake fire selector, dubbing as a manual safety switch only, are located on both sides, while the cocking handle, which can be located on one side at the time only, may however be removed from its seat and replaced in a specular position to adapt to both right-handed or left-handed shooters; there are three slots on each side that might host the cocking handle, so that it can be located closer or farther according to the shooter's preferences. The Anschütz Rx22 MSR is a blowback-operated semi-automatic carbine, much like most, if not all, of the rimfire long guns out there; it is not equipped with a last round hold-open device and feeds through detachable single-column STANAG-imitation polymer magazines with guide cuts on the sides, an increasingly popular system used by many other last-generation rimfire rifles, including (but not limited to), the very same ISSC Mk22-MSR, the Beretta ARX-160 .22 LR, the SIG-522 and the rimfire sporting versions of the M4 carbine made by Walther-Umarex under the Colt trademark and by Chiappa Firearms of Italy. The Rx22 MSR magazine capacity might vary from two to five, ten and twenty-two rounds. More specifically the lower-capacity two-rounds magazine has been developed because the German firearms law limits to two rounds the capacity of any long arm used for hunting; this will allow German customers to purchase the Anschütz Rx22 MSR rifle and use it for a wide array of purposes, from varmint and small game hunt to plinking and target competition, just by owning different capacity magazines.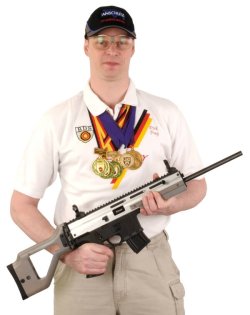 J.G. Anschütz GmbH & Co. KG
The 16.5-inch barrel of the Rx22 MSR rifle comes without a flash hider and is manufactured to the same exacting tolerances of Anschütz' target barrels, through with a special button-rifling process, and also features a recessed target crown. The single-stage trigger components are hardened and finely ground to produce a fast trigger with a very consistent release. The trigger can be adjusted from 3.3 to 5.5 lbs., and it is factory-set at 4 lbs.; this plethora of features has been finely planned to make the Rx22 MSR a perfect machine for both official target shooting competition and plinking, and even for military training. The instrumental contribution from the German national and European IPSC champion Dirk Frey to the development of this finely tuned machine is definitely the best warranty that the average shooter might want about the quality and performances of the Anschütz Rx22 MSR platform.
Now finally available outside of Europe as well, the Rx22 MSR ranges around 900.00 US$ for the "Desert" and "Black Hawk" models, and tops around 1000.00 US$ for the "Precision" model.
---
For further information

J.G. ANSCHÜTZ GmbH & Co.KG Jagd- und Sportwaffenfabrik
Daimlerstrasse 12
89079 Ulm
Germany
Tel.: +49-(0)731-4012-0

Fax: +49-(0)731-4012-700