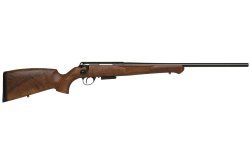 A made-to-scale repeater for predator and light game such as roe deer, the Anschütz 1771D bolt-action hunting rifle is the perfect fit for cartridges in .223 Remington case sized family – up to a .416 Remington Magnum. 
Only the magazines are changed to accommodate the shorter cartridge length. This trim rifle is perfectly balanced for the .223 Remington chambering and feels quite at home when shooting from the prone or standing position, even running shots on moving game, as well as on the bench; it is designed for highly precise shots. 
The barreled action of the Anschütz 1771D sports a two-row, six-lug bolt that engages directly to the barrel, allowing a quick, short 60° bolt throw and an extraordinarily smooth and fast operation. 
Other features of the Anschütz 1771D bolt-action hunting rifle include the Company's own adjustable trigger, whose weight can be reduced to 0.99/1.54 lbs through the installation of a spring, a four-shots magazine, and a German-style stock, as well as a 55cm long barrel.