The Accuracy international AT-X rifle's action is the same as the AT and AX rifles with a heavy rectangular flat-bottomed receiver with its barrel removably threaded in the front. The steel action is fully pressure bearing with the bolt lug abutments within it, not the barrel as is seen on many fast change barrel rifles. 
Let's talk about modularity: There's a small 4 mm locking screw on the lower right side at the front of the receiver that allows the pinched action to be released for barrel swaps. 
There are spanner flats nearer the muzzle if needed but the rifle was supplied with the barrel hand tight, and I was able to remove it with a just a firm grip. 
Removal and re-fitting showed no more than 0.1 mRad variation in point of impact, the barrel's tenon butts up to a solid shoulder and you know exactly where to stop turning. 
The heavy thread wont easily self-loosen and the 4 mm Allen bolt is all that's needed to clamp it in position, I have used this system on an AT rifle for some years and found it to be reliable. 
Accuracy International: AT-X differences from the AT and AX rifles
The AT-X's significant difference from the AT and AX rifles is that its barrelled action is similarly screwed to the stock but not bonded into position. This is an additional step taken to increase the durability of the military rifles designed to cope in heartless environments and less of a need in the civilian world because you can remove you rifle from its chassis more easily for customisation or maintenance. 
Although currently available in 6.5 Creedmoor, there is no issue with having multiple barrels in appropriate chamberings for the 0.473" bolt face and short action length. As well as the major stock change, the biggest difference between AT and AT-X is the competition "AI-USA/XTSP Match trigger" with adjustable two stage pull weight from 0.68 - 1.25 kg (1.5 - 2.75 lb). I felt it totally transformed this rifle to AT-X from AT base rifle and was quite likely the nicest precision rifle trigger I have ever used. You can immediately squeeze through the first to the second stage and feel it's instant position in the trigger blade's stroke yet maintain a super light release weight with least disturbance to the rifle, a masterpiece of engineering in my opinion.
AI's characteristic three position wing safety catch remains, forward for fire, middle safe with firing pin locked and rearmost for bolt handle locked too. Ten rounds fit in the steel magazine held in two staggered columns and feed to the chamber is smooth without bullet meplat or case damage. The 6-lug bolt has a fluted shaft and requires 60-degree lift on the handle to open and cock the action. A 24 mm ball tips the steel handle connecting to the bolt's fluted shaft (originally designed to clear mud/ice debris on the battlefield), and it's push feed face strips rounds from the twin staggered columns of the steel magazine below. There's a single extractor claw and sprung plunger ejector. The ambidextrous release latch is at the front of the trigger guard and the mags drop into your hand for fast reloads. The well is asymmetric with a deeper right wall than the left to offer slight preference for right-handed shooters loading mags with their left hand, no left-handed rifle is currently available. Bolt stroke is 110 mm and travels smoothly without any stuttering or possible jamming, it's an ergonomic masterpiece. 
Light and stiff: Accuracy International AT-X rifle aluminium chassis
The action's flat sides and base are surrounded by the stock and there is no hint at all of anything other than perfect fit without applied stress. The skeletonised 7075 aluminium chassis is designed specifically for light weight without compromising stiffness yet remains slender for barricades and long for positional stability and versatility. 
The extended forend is peppered with AI keyslots to add accessories and desired weights to finely control balance point. There is a full-length ARCA rail underneath for secure attachment to tripods or bipods with a solid barricade stop just in front of the magazine well allowing you to force the gun hard into solid supporting structures. This stock's butt is non-folding configuration, but a folder is a likely option that I would probably choose as it speeds quite simply speeds up bolt removal and use of a cleaning rod which here, requires the cheekpiece to be removed for linear access to the bore.
Adjustment of all stock options is with an Allen key that is clipped under the ambidextrous cheekpiece, the recoil pad has a central locking dial that allows it to move vertically and rotationally for positional preference. Length of pull is adjustable with Allen headed socket screws and there is a bag rider/Picatinny rail that locks securely in position to locate the recoil pad beyond. 
The cheekpiece has a ridged upper surface to fit under your cheekbone and is laterally adjustable for perfect head alignment behind your optic. The skeletonized stock's relieved areas offer ample space for your jaw, firing hand/wrist and supporting hand if required without annoying impacts during recoil that would further disrupt aimpoint. The grip is a rubber AR15 pattern unit and there is a thumb rest location on the right side if you wish to add that accessory. 
The gun is front heavy, it's overall mass specifically characterised by the parallel 25 mm diameter cut rifled barrel that's made by AI themselves. It's threaded 5/8x24 TPI at the muzzle for a moderator or brake, is supplied with a threadcap and it quite the serious tool. 
It swells to 32 mm where it enters the action and finished cerakote, matt black to contrast with the stock.
Rifle performance on target was immediately accessible. The 20 MOA Picatinny rail incorporated with the receiver makes scope mounting secure and straightforward with inherent long-range potential from the inclination. Initial groups broke the 5 shot Minute of Angle threshold without issue but I tried lots of ammunition through the gun, all of which shot effectively on paper at 100 metres, but this gun is all about stretching the distances. 
Throughout many pleasant hours/days ringing steel from various shooting positions and locations around my favoured shooting territories, I used rest bags, bipods, and tripods before returning to paper targets to gauge updated performance. After hundreds of rounds down the bore with cleaning every 50 shots, it had settled very well into a sub half MOA performer. I had also found it notable how easy it was to clean the 4-groove cut rifled barrel which itself, exhibited superb thermal properties, no problem stringing ten round groups together (on film) without point of impact shift.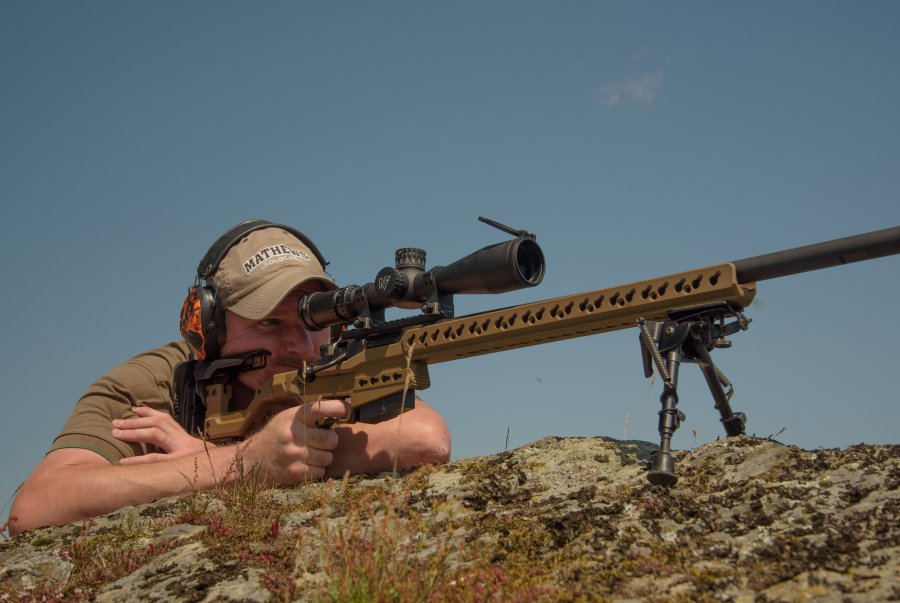 David Land, © David Land 2022
I shot with a bare muzzle or moderator throughout my time with the gun, I'm sure many will choose to add a muzzle brake for ultimate recoil control yet this heavy gun in a small cartridge has very modest manners and no muzzle flip. The recoil pad position and cheekpiece are simple to tailor to your needs and I like the fact the Allen key to make any changes, is stored under the cheekpiece with a sprung ball detent to prevent its loss. Yes, it might have been nicer to have tool-less controls but the solidity and compact nature of the Allen screws is appealing, it's less likely to snag on supporting rest bags or clothing during  fast paced match too.
Ammunition and accuracy in our test of the AI AT-X in calibre 6.5
| | | | | | |
| --- | --- | --- | --- | --- | --- |
| Ammunition | Bullet weight (gr) | Stated Velocity on box (fps) | Average velocity recorded (fps) | Muzzle energy (ft-lbs) | 100-metre 5-shot group (mm/inches) |
| Norma Match  | 130 | 2,850 | 2,821 | 2,297 | 13.1/0.517 (*ten shots!) |
| RWS Speed Tip Professional | 140 | 2,717 | 2,669 | 2,215 | 9.8/0.387 |
| RWS Evo Green | 93 | 3,214 | 2,669 | 2,231 | 14/0.554 |
| Hornady V-max | 95 | 3,300 | 3,347 | 2,363 | 7.8/0.309 |
| Hornady ELD-M | 147 | n/a | 2,637 | 2,270 | 15.1/0.598 |
all4shooters.com test result: Accuracy International AT-X in 6.5
I can see how and why this rifle fulfils the PRS design ethos and cannot doubt anything about the engineering standards. The trigger is a masterpiece, with 500 g breaking weight as supplied, it changes one of the most reliable rifles I have ever used (the AT), into a more inviting precision competition rifle world. It is still very heavy and although I don't shoot PRS, I know many shooters will love all the AI Keyslot to add further weight to tame even more recoil and control balance point.
Bolt operation is superbly smooth, I was unable to jam it or even force a stuttered misfeed at any time throughout the review process and the curved handle/ball design is to my mind, the finest ergonomic interface of any precision rifle. The magazines load easily, either out of the gun and can also be top loaded in the rile through the ejection port. Single rounds dropped on top of the magazine also feed straight to the chamber without any hang-ups in an emergency fast load scenario. The safety catch is totally reliable and locks the firing pin, it's hard to deny the fact the action is pretty much identical to military sniper rifles and thoroughly proven in tough environments, I doubt PPRS shooters will have much use for a safety catch though in their strict courses of fire. 
All surface finishes are perfectly machined without a hint of a burr or mark anywhere and the Cerakote is well applied. I treat borrowed rifles very carefully for obvious reasons but so far, no marks after 12 weeks of use. I personally like the Elite sand colour but with four other options from the factory, I'm sure one will be right for you.
I think Accuracy International have added to their hard won worldwide military reputation with an ideal contender for the civilian market, changing only the user interfaces/stock and keeping that superb action/barrel system and it's not to be ignored that while I was using this rifle, it's AT-X brothers had been performing admirably at the PRS world championships.
Accuracy International AT-X technical specifications and price
| | |
| --- | --- |
| Caliber: | 6.5 Creedmoor (short action)  |
| Weight (inc. magazine): | 13.1 lb/5.94 kg |
| Overall Length:  | 42.75"/1086 mm, unexpanded L.O.P. |
| Barrel: | 416 stainless steel, 6 groove, 1:8 twist, 24"/610 mm 6.5 Creedmoor, 'competition' grade heavy profile cut-rifled, with 5/8 x 24 UNEF threaded muzzle with thread protector included  |
| Finish: | Anodised hard coat and Cerakote topcoat in Black, Dark Earth, Elite Sand or Red Blue colours |
| Length of Pull:  | 321 mm to 376 mm in 5.5 mm increments - Additional butt spacers can also be used  |
| Cheekpiece:  | Height adjustable – range: 22 mm (0.86") in 5.5 mm (0.215") increments  |
| Pistol Grip:  | AR compatible raked pistol grip  |
| Scope Mounting:  | 20 MOA low action rail, bolted to the chassis  |
| Price (in the UK):  | £4,761.99 (Please ask your local retailer for the price in your country) |
| Accessories Available:  | Forend bridge adds extra space for KeySlot rails and accessories whilst protecting the barrel; folding stock hinge   |