The term "Modular Precision Weapon Platform" stands for nothing other than a versatile multi-caliber precision rifle, as offered by numerous manufacturers on the international market today. The CBP,  one of the world's largest law enforcement organizations, will be introducing the current Accuracy International AT-X multi-caliber bolt-action rifle with folding stock and short forend.

Accuracy International AT-X rifle in detail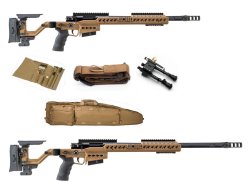 The typical Accuracy International (AI) bolt-action with a 60-degree bolt throw and six locking lugs in two rows, is mounted in the steel receiver. An optics mounting rail with 20 MOA forward tilt is screwed onto the top. The free-floating stainless steel match barrel with muzzle thread is screwed into the front section of the receiver with a long fine thread. The "low profile" aluminum chassis ensures that the recoil is directed straight into the shooter's shoulder with minimal muzzle rise and also improves maneuverability. The stock length and cheekpiece height can be quickly adjusted without the need for tools. The height and angle of the recoil pad can also be customised to make it perfectly customized.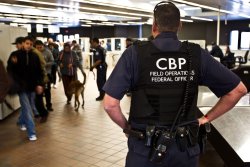 The elaborate forend system can optionally be used completely without the forend bridge encasing the barrel. There is also an optional short bridge, which can be attached in different positions, and a long forend bridge. An ARCA rail integrated on the underside of the forend and an attached MIL-STD-1913 rail enable the mounting of bipods and tripods. The AI's own keyslot system (instead of KeyMod or M-LOK) limits the choice of accessories somewhat. On the other hand, however, it is a very secure interface system. The magazine well for the rugged AICS sheet steel magazine with a capacity of 10 cartridges has been designed in such a way that quick magazine changes are always guaranteed in the heat of competition and in a wide variety of shooting/aiming positions and styles. In addition, the front of the magazine well has been designed to act as a barricade stop. The key slots also allow an additional barricade stop to be fitted. The mount for the QD sling swivels in the chassis is made of steel for stability reasons. The XTSP trigger with adjustable trigger blade position is match quality and pull weight can be adjusted in a range from 680 to 1,250 grams.
This sophisticated trigger is combined with the classic, right-sided three-position safety on the bolt. One of the AT-Xs we tested delivered top groups below the 10 mm mark at 100 meters.
Unfortunately, neither the authorities nor the manufacturer can currently provide any further information about the order volume, number of units, caliber selection, technical details or additional equipment such as mounts, optics, silencers and bipods used.