After a short wait and some teasing, Israel Weapon Industries (IWI) has officially introduced its new Masada family of 9mm striker-fired pistols for military, law enforcement and civilian purchase.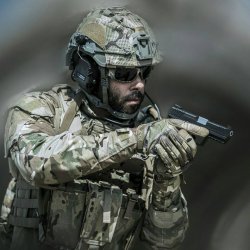 Masada's frame is made of high strength, impact resistant fiberglass reinforced polymers and, according to IWI, it is built to withstand and endure all types of military use and abuse in extremely harsh environmental conditions. Among the other features of the new handgun, a low profile barrel for reduced perceived recoil and faster sight recovery, fully ambidextrous controls and enhanced ergonomics which provide a natural and instinctive pointing grip angle. Three interchangeable wrap around back-straps are provided. 

Masada also utilizes a modular serialized high grade steel trigger mechanism housing that can be easily removed, allowing simple and easy disassembly and reducing maintenance and life cycle costs. The trigger, designed to enhance the shooter's accuracy and safety, has an average pull from 5.5 to 7 lb. with a clean and crisp break and a positive reset with a built-in trigger safety. There is no need to pull the trigger in order to field strip the weapon. Other passive safety mechanisms include a firing pin block safety and there is also another variant which utilizes a thumb activated manual safety - the pistol can in fact be provided with or without this manual safety.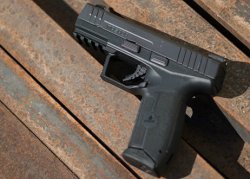 The 4.1″ (104 mm) barrel is polygonal rifled, cold hammer forged barrel with 1:10 RH twist rate, while the slide sports front and rear cocking serrations. The frame has enhanced ergonomics with an improved grip angle. There is an external extractor integrated with a tactile and visual loaded chamber indicator. The slide stop and magazine release are fully ambidextrous. Combat-style sights are standard - fixed 3-dot tritium illuminated Meprolight night sights are optional. The pistol weight without the magazine is 22.9 ounces (650 g). The press release states that the Masada will be available in four colors: OD Green, Black, Flat Dark Earth (FDE) and Sniper Gray. Magazine capacity is  17+1.
In the words of Casey Flack, CEO of IWI US, "This is our first entry into the striker fired pistol market and we are very pleased with the results. Having a completely ambidextrous system, coupled with IWI's famous performance, will make this a serious contender for civilian and government customers."
The MASADA pistol with be available in the first quarter of 2018.