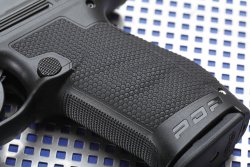 All 5 new Walther PDP versions feel good in the hand. Very secure! So secure that the testers involuntarily asked themselves, why? Interchangeable backstraps are nothing new, and that's not the only reason. Walther has invested some development potential in the surface structure of the grip. Its texture has a tetrahedron design. This "Performance Duty Texture", as they call it at Walther, conveys a high adhesion to bare or gloved hands, but does not feel like a wood rasp. Walther has done its homework on a polymer handle that can hardly be improved. None of the testers could determine a significant difference in the handling of this quintet. Neither the increase in length nor the increase in height of the different models had a significant effect on the handling characteristics. What is noticeable is the wide spacing between the milled grooves on the slide, which serve as cocking serrations.

These wide grooves, called Super Terrain Serrations, give the bare fingers an amazing but comfortable grasp, and also provide unusually direct feedback to the gloved hand. All five pistols are excellently balanced and exhibit outstanding handling characteristics. A simple test that anyone can do: pick up the gun, hold it downwards, pick a target, and quickly point the gun at it. With well-balanced pistols, the bore axis often points amazingly accurately to the aiming point – this homework also gets a top grade.


Before shooting the Walther PDP: the tinkering lesson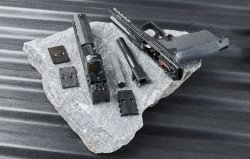 The first tinkering exercise took place on the grip back – it amazes every time how much such a change makes. The backstraps can also be used to switch between two differently sized magwells. The Walther PDP is a full-featured development for right- or left-handed users, and the magazine release can be swapped to meet the ergonomic needs of the operator. Thus, all controls are duplicated or on the appropriate side. This family of pistols is likely to have the smallest, fully adjustable rear sights. With the enormous range of bullet weights and loadings of the 9mm Luger, this is finally a perfect solution even for "ordinary" utility pistols. Even foreign brands can be mounted in Walther rear sight seat – if it is to remain with iron sights. However, the tinkering is over only after mounting a red dot sight.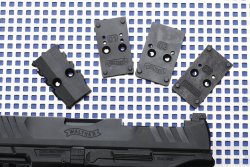 The currently available adapter plates accept the following models and brands: Docter, Noblex, Meopta, Trijicon RMR and SRO, Holosun models 507C, 407C, 508T, Riton, Axion, Leupold Delta Point, Delta Point Pro, Shield RMS, RMSw, SIG Romeo Zero and Vortex Viper. For those who fear battery failure on inopportune occasions, high co-witness sights can be mounted. These sights are also used for aimed firing with a suppressor. Law enforcement officers will rely less on red dot sights and more on a laser mounted on the Picatinny rail. The only downer is the very deep milling in the slide, which is commendable in itself when a Doctor or Noblex red dot sight is mounted there. The adjustment screws can only be reached by means of a very obliquely positioned screwdriver – but this little pitfall is out of all proportion to the very low sighting line.
With the new Walther PDP pistol on the shooting range

There, in the informal run-through, all five pistols surprised with very consistent shooting behavior. Whether four, four-and-a-half or five inches in length, whether the short or tall grip was used, there was no clear difference either in felt recoil or in static use. Only with the very light bullet types there was slightly more muzzle flash to be seen from four-inch barrels. And something else became visible: ring-shaped marks around the outer surface of the ejected cases. This was a feature some testers had known for a long time – from pistols made by a Mr. Luger, commonly known as Pistole 08. The slight step inside the chamber provides better case sealing, less dirt to the rear from the ejection port, and thus a cleaner gun – no, those who reload will not be harmed by the annular marking. After the first impressions of all the pistols, the testers took the PDP variant with compact grip but five-inch slide (5"/127 mm barrel length) for an accuracy test.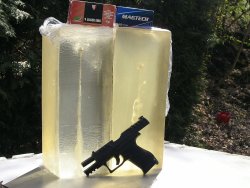 The very cleanly defined trigger was very pleasing – the GunCer ceramic gun grease from Ballistol reduced the trigger release value to record-breakingly low values around 56.4 oz/1600 g. The very good hit performance with almost all 9mm Luger cartridges can certainly be attributed in part to the amazingly clean characteristics of the trigger and the very low trigger resistance for a striker fired pistol. However, a red dot sight should not be underestimated as an aiming aid compared to a conventional sight. The right-handed polygonal barrel installed in the PDP has the standard 250mm twist rate used in almost all pistols in this caliber. Without red dot, the white dots of the iron sights come into play, somewhat distracting depending on lighting conditions. Pure sport shooters will rather reach for the matte black versions or immediately retrofit other sights.

The ballistics test on Clear Ballistics showed that even though the material has somewhat less density than TR gelatin, many bullet designs respond to it in order to make a valid statement within this medium. The four-inch PDP variant provides sufficient performance so that, in contrast to extremely short-barreled pistols, even inexpensive bullet designs respond relatively reliably.

Walther PDP - technical data and prices at a glance

| | | | |
| --- | --- | --- | --- |
| Model: | Walther PDP OR Compact 5"   |  Walther PDP OR Full Size 4.6"   | Walther PDP OR Compact 4" |
| Price: | 799 euro  | 799 euro  | 799 euro  |
| Caliber:  | 9 mm Luger* | 9 mm Luger* | 9 mm Luger* |
| Magazine Capacity:  | 15+1 cartridges  | 18 + 1 cartridges | 15 + 1 cartridges |
| Dimensions (LxWxH):  | 215 x 34 x 135 mm** | 206 x 34 x 135 mm** | 189 x 34 x 135 mm** |
| Barrel Length:  | 127 mm | 116 mm | 102 mm |
| Sight Radius:  | 188 mm | 176 mm | 163 mm |
| Rear Sight Notch:  | 3.7 mm  | 3.7 mm  | 3.7 mm  |
| Front Sight Width: | 3.7 mm  | 3.7 mm  | 3.7 mm  |
| Trigger Pull Weight:  | 1600 g approx.  | 1600 g approx.  | 1600 g approx.  |
| Weight: | 775 g approx.  | 760 g approx.  | 725 g approx. |
| Features:  | Various grip backstraps, a 15-round spare magazine, magazine loading aid, Torx and blade screwdriver, * = also available in 9x21 mm, ** = grip dimensions depend on the respective backstrap. | Various grip back adapters, one 18-round spare magazine, magazine loading aid, Torx and blade screwdriver, * = also available in 9x21 mm, ** = grip dimensions depend on the respective backstrap. Walther PDP OR Full Size 4.6" not yet released in July 2021  | Various grip back adapters, a 15-round spare magazine, magazine loading aid, Torx and blade screwdrivers, * = also available in 9x21mm, ** = grip dimensions depend on the respective backstrap. |
Walther PDP: test wrap-up

For dynamic sporting use, the five-inch variant leaves hardly anything to be desired. A small red dot sight opens up a better use of its potential in this niche. The PDP pistols impress with an excellent price-performance ratio.
| | |
| --- | --- |
|  What we liked a lot: |  What we found less good: |
| Universal use thanks to many variants in the model family | Partly complicated optics mounting |
| Consistent handling characteristics and balance | |
| High accuracy | |
| Good trigger | |
| Strong grip texture, good hold | |
| Good price/performance ratio | |